Tony Pulis adds to pressure on Roberto Mancini with call for FA action
Last updated on .From the section Football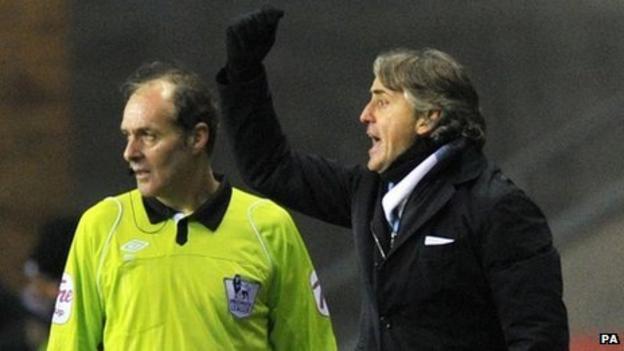 Stoke boss Tony Pulis has called for the Football Association to take action against imaginary card waving.
BBC Sport understands the FA will not sanction Manchester City boss Roberto Mancini for making the gesture - indicating a player should be booked or dismissed - in two recent games.
But it could write to him because of the example set at grassroots level.
Pulis said: "It's something that's come into the game and should be stopped and the sooner the FA do that, the better."
The Stoke manager added: "Sadly, it's the way it's gone, and for me it's unacceptable.
"Let the referee officiate and decide whether it's a yellow, red card or a fair challenge, and the rest of us get on with it."
The FA is not understood to be considering a punishment for brandishing imaginary cards because it is not a "sanctionable offence" under their regulations.
It is the responsibility of referees to deal with the issue, according to the FA, including punishing a manager for dissent if he persists. However, it said a letter could also be sent to the club on behalf of officials if the behaviour was felt to merit it.
Since criticising Manchester United's Wayne Rooney for allegedly encouraging referee Chris Foy to send off City's Vincent Kompany in the FA Cup third-round tie, Mancini has twice been seen waving imaginary cards.
Liverpool captain Steven Gerrard was angered when Mancini urged Glen Johnson's dismissal for a late challenge in their Carling Cup semi-final first-leg defeat last week.
The Italian also waved an imaginary card after a handball by Wigan's Maynor Figueroa in City's Premier League win over Wigan on Monday.
Rooney tweeted: "Was Mancini asking for red card?" And Wolves manager Mick McCarthy demanded that Mancini be told to stop waving imaginary cards.
McCarthy said: "I don't think anyone should do it. It is wrong. It looks bad and I'm sure if it is pointed out, Roberto won't do it again."
Following the Wigan game, Mancini suggested he could not influence officials in the way that Rooney can.
He said: "I am on the bench. It's different from a player who is near the referee."