Mark Cooper puts Kettering Town role on hold
Last updated on .From the section Football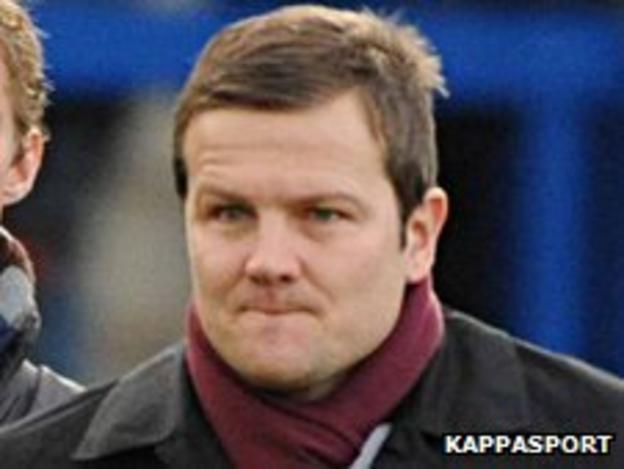 Kettering caretaker manager Mark Cooper says he will no longer take charge of the team while the club's off-field issues continue.
He insists he is not resigning but as things stand will not manage the Blue Square Bet Premier crisis club on Saturday at Wrexham.
Cooper told BBC Radio Northampton: "There's no point in being involved because the players have had enough.
"They've not been paid and there's been no communication."
He continued: "If people come in and the players get paid then all that will change, because the players will want to be at the club.
"But they've been kept in the dark for too long now. They've got rent, cars, phones, kids and there's no income. It's ridiculous.
"They haven't been able to plan anything and I feel sorry for them, really."
Cooper, who managed Kettering between 2007 and 2009, only took over from Mark Stimson on 4 January because of promises of incoming funds for the club and announced he was considering his future three days later following the 3-1 defeat by Telford, his only game in charge so far.
The financially troubled Blue Square Bet Premier outfit face a winding-up petition next month and are still subject to a transfer embargo.
Meanwhile, Kettering Town Supporters' Trust has repeated its call for the club's chairman Imraan Ladak to step down.
In an email sent to Ladak, Trust chairman Mark Severn said: "The key for us remains survival.
"The best hope... is for the custodianship to pass to someone else as soon as possible."
Severn thanked Ladak for his past efforts on the club's behalf but continued: "This is perhaps as deep as it can get into crisis before extinction.
"So we urge you to accept whatever offer is available and to depart the club while your legacy can still be admired.
"Please do not undo the pleasurable memories that you can leave behind now."