Darlington Football Club get two-week reprieve
Last updated on .From the section Football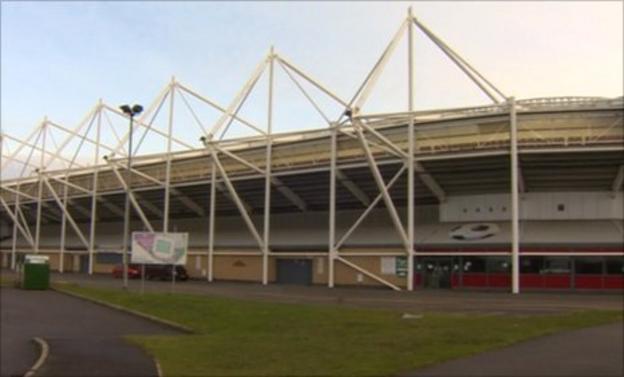 Darlington will fulfil the next three league fixtures after administrators agreed a deal with the DFC Rescue Club to keep the club alive.
The group met demands to put £50,000 in place before 1500 GMT to secure the Blue Square Bet Premier club until the end of January.
Two home games, Fleetwood on Saturday, and York seven days later sandwich next Tuesday's trip to Hayes & Yeading.
Administrators had decided to close the club before the last-gasp offer.
Supporters were led to believe the situation was bleak for the Quakers, following Raj Singh's decision to place the club in a third period of administration within the decade at the beginning of the month.
Long-term futures had been achieved on previous occasions in 2003 and 2009, but this last-gasp escape from liquidation was the closest the club had come to folding in their 128-year history.
"The scenario is we have enough money we believe to take us to the end of January, to give interested parties that little it more time to come forward with offers," administrator Harvey Madden told BBC Tees.
"It's a temporary solution, and I'm looking for the longer term, not just a short-term fix.
"You have the ups and downs in this game, and it was the worst time in my life to tell the players they were finished.
"To actually then go back to them was strange, and you doubt your own credibility, but any chance of all to save the club, I'll be there.
"I am sat here more firmly in the seat as administrator [rather than liquidator]. Hopefully in a couple of weeks I'll be in a position where a willing buyer comes forward and we can move forward."
Interim boss Craig Liddle said: "It's been a rollercoaster but we've got the outcome everybody wanted.
"I've got to piece a team together now for Saturday, and if we can come through this next few weeks then the main objective for me would be to keep the club in the league."
The news has been met with amazement by players, who were told hours earlier they would be seeking new employment.
"#darlo next 3 games on! You couldn't write it, I didn't see this coming, need all your support on saturday for the lads!" said James Gray on his Twitter account.
Volunteers would be required to rally round to help games take place - with all on-field and off-field staff made redundant by administrators last week.
"Ian Peacock is providing the coach for the Hayes and Yeading game, while tomorrow's task will be the nitty-gritty, getting Saturday's game ahead," said DFC Rescue Group chairman Doug Embleton.
Liddle revealed he has nine senior professionals and a squad of youth team players available for the fixture, and he could potentially play himself almost six years after his final appearance.
"It'll be a last resort for me, I'm 40 now. I don't want to harm any of the young boys, but I'm registered to play," Liddle continued.
"Hopefully it won't come to that - and I'm relieved for me and the supporters.
"We're alive and kicking, the boys are back in training tomorrow. Hopefully we can go out and put a performance in for the supporters.
"I don't think we'll come as close to losing the football club again."
Meanwhile the Football Association confirmed the nine remaining players would be able to represent the club.
However defender Aaron Brown confirmed to BBC Tees he would be leaving the club regardless of an offer, with his family based in Bristol.