Eq Guinea squad to earn US$1m for Libya win
Last updated on .From the section Football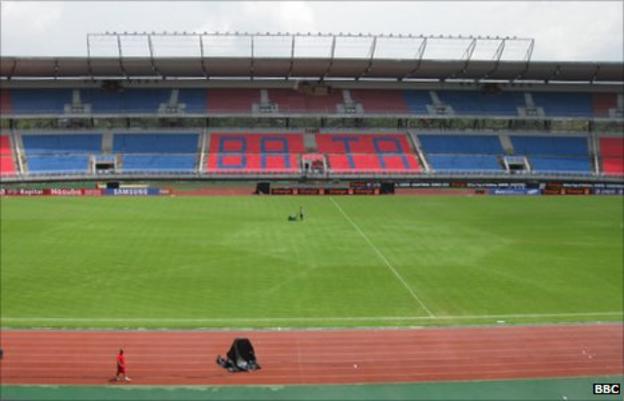 Equatorial Guinea's squad will share a million-dollar win bonus if the co-hosts can win Saturday's opening match of the Africa Cup of Nations.
The National Lightning get the tournament underway when taking on Group A rivals Libya in Bata.
The money has been made available from the son of long-standing president Teodoro Obiang Nguema.
"This is a personal gesture - there is no official standing to the prize," said federation spokesman David Monsuy.
"The news has given the players an injection of enthusiasm and morale. It shows the popular support everybody has for the team."
US$20,000 will also be awarded for every goal the co-hosts manage to score during the game, which kicks off at 1830 GMT.
The incentive may well boost a team from whom little has been expected, with Equatorial Guinea the lowest-ranked team in the tournament.
Lying 151st in Fifa's rankings, the Nzalang Nacional lost their competitive match 2-1 in Madagascar when the pair met in a 2014 World Cup qualifier in November.
Preparations for this month's finals were also affected when French coach Henri Michel quit in December, meaning Brazilian Gilson Paulo was drafted in at short notice to take charge for the Nations Cup.
After the Libya clash on Saturday, Equatorial Guinea will play Senegal on 25 January and then Zambia in the capital Malabo four days later.
Monsuy explained that it is unclear whether a similar jackpot will be offered for these games as well.
After opening in Bata on the Equatoguinean mainland on Saturday, the 2012 Nations Cup will end with the in fellow co-host Gabon on Sunday 12 February.