Hearts players happy over wages - striker Kevin Kyle
Last updated on .From the section Football
Kevin Kyle says he and fellow players feel they have settled their wage dispute with Hearts despite continued Scottish Premier League action.
The club were charged "with failing to behave with the utmost good faith to the SPL" after being accused of paying wages late for a fourth month in a row.
"That's a matter between the club and the SPL," said striker Kyle.
"Us as the players are happy with the situation. We've got our wages and that's all we were asking for."
The SPL had instructed Hearts to pay January wages on time - 16 January - to 14 players who had made a complaint to the parent body.
Hearts insist that they met the deadline because they transferred funds to the players on Monday afternoon, even though money would not reach some players' bank accounts until the following day.
But the SPL, which had previously threatened the club with sanctions, insists that Hearts failed to meet its midnight deadline and will call the club before a hearing.
"I think we got a group call on Friday to say the funds had been secured and we would be paid," said Kyle, who said his wages were in his account by 0800 GMT on Tuesday.
"The club said what they were going to do and we've been paid, so I don't see any problems with it."
Kyle said he had experienced a similar situation while with Sunderland, after they were relegated from England's top-flight, but said the difference was that the Wearside club had kept everyone informed of the problems from the start.
"It has been a difficult period, there's no denying that - 14 of us made a complaint to the PFA to try to find out what was happening because we weren't getting any answers," the Scotland international told BBC Scotland.
"Nobody was telling us exactly what was happening. It was all a guessing game."
Hearts' wages dispute has followed owner Vladimir Romanov's pronouncement that he wants to sell the club and that, meantime, they must become self-sufficient without further financial input from the Lithuania-based businessman.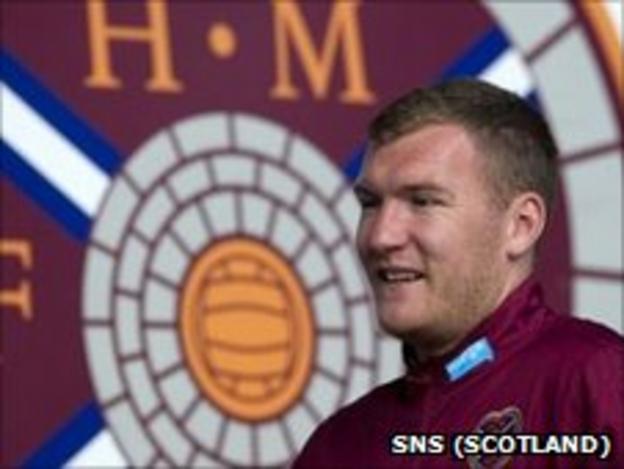 Despite cost-cutting and player departures - midfielder Ryan Stevenson has refused to play after his wages were delayed - the team have overtaken Motherwell to sit third in the SPL.
"Not everybody earns thousands of pounds per week," said Kyle. "We have players in the team earning a lot less and some of them were really struggling.
"You see the situation with Ryan. He just picked up his tools and left and Ian Black was apparently doing a bit of painting and decorating.
"It was hard and, as a group, we decided we'll make this complaint and try to get somebody to find out what is happening.
"That got processed, the SPL made a statement, the wages arrived and, for me personally and the rest of the lads at the club, that's the end of the matter.
"That's the club assured us that we'll get our wages on time and they will continue."
Kyle is awaiting an operation that he hopes will save his football career after a year on the sidelines with a hip injury.
"I felt bad in a way that I was asking for wages and I'm not even playing, but at the same time it's not my fault that I got injured," he said.
"But the players who have been playing have been digging results out every week - they are unbeaten in six games - and it's a credit to themselves considering the situation and circumstances they've been put under.
"To do what they've done is a great thing and the club really appreciate it and I think that's why, now the wages have been paid on time, they'll continue to get paid on time."