Plymouth Argyle role interests Lee and Money
Last updated on .From the section Football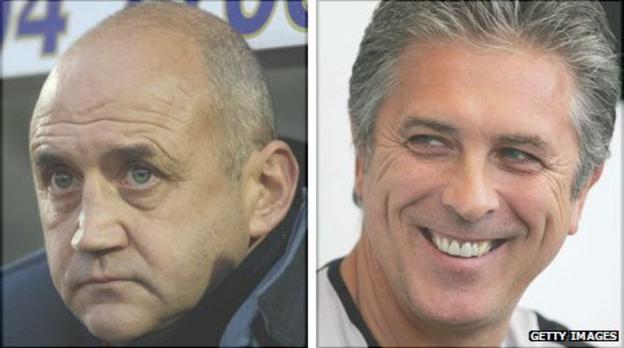 Former Walsall boss Richard Money and ex-Watford and Wolves boss Colin Lee have both expressed an interest in a coaching role at the club.
Sean O'Driscoll had been linked with the role before taking a coaching job at Nottingham Forest on Thursday.
"It's the type of role that would be very interesting," Money told the BBC.
"It's a massive club obviously and a club that I think everyone in football would like to save if they could.
"I've heard some very good things about Carl Fletcher which is pleasing," added Money, who had been on the on the shortlist for the Bristol Rovers job, which Mark McGhee went on to get.
Argyle are currently in League Two's relegation zone and face high-flying Crawley Town on Saturday.
Lee, who is based in Devon, has experience of keeping sides up against the odds as he guided to Walsall to safety in the second tier for two seasons in a row from 2002.
He was also chief executive at Torquay United as the club won promotion from the Blue Square Premier and back into League Two and was interested in the Argyle manager's job in 2010.
"I'd certainly be interested in it," Lee said.
"It's something that, to be honest, I've been watching with interest at the events at Plymouth for a long time.
"It's not unusual for me to be in the situation that Plymouth find themselves.
"Walsall was a firefighting job, we were eight points adrift, stayed up by the skin of our teeth and did the same the following year."
Lee says that whoever gets the job at Argyle must have different strengths to the ones that Fletcher has, in order to complement him and get the most out of the coaching team.
"It's important for any manager to recognise their strengths and then surround themselves with people who've got other strengths and really use those people to maximise your position as a manager.
"So for example, if you're a very good coach then you might need someone else to co-ordinate scouting," said Lee.
He gave assistance and advice to then-boss Paul Buckle who, like Fletcher, was in his first managerial role.
"What people have to realise is that when the going got tough at Torquay I went back on the training ground as well," he said.
"It wasn't like I was stuck in the office, I was a hands-on chief executive with a football background.
"I set up the youth team, got that into reasonable shape and was called upon the manager to assist him and I think the rest is history."