Libyan players have right "mentality" for Nations Cup
By Matthew Kenyon
BBC Sport, Bata
Last updated on .From the section Football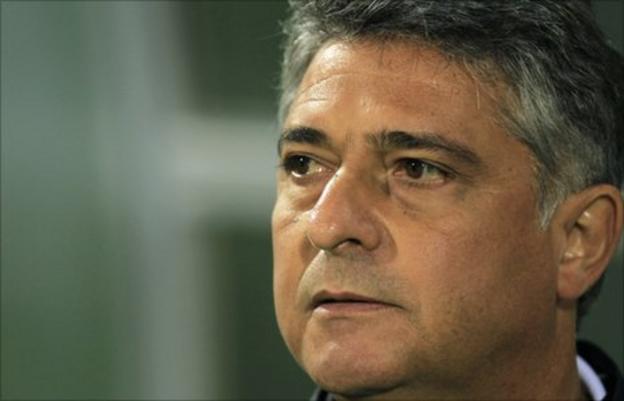 Libya's coach says his players are in the right frame of mind to take on co-hosts Equatorial Guinea in the opening game of the Africa Cup of Nations.
But Marcos Paqueta told the BBC that his players' "mentality" will help them meet that challenge.
"They use money, I use mentality," Libya's Brazilian coach said.
"I have to change the mentality for football in Libya, not just for a few games or for one championship but for the future."
Libya's qualification for the finals came against a backdrop of turmoil in their country, but Paqueta says the team are ready to take the continental stage.
"Some players fought in the war, some were afraid for their families [but] I use some strategies to keep them thinking only about football," he said.
Paqueta says it is important for the team - who arrived here in Bata on Wednesday evening and appeared in good spirits - to concentrate on the group phase of the competition before allowing themselves to dream of the knock-out stages.
"I always ask the players why they are playing - there are many reasons: for the people, the country, the story," the coach said.
"So I make an agreement with the players - first they think about qualifying, after that you go step by step, quarter-final, semi-final, maybe the final.
"It's a dream - you have to remember your dreams but keep your feet on the floor."
Libya's build-up to the tournament has been hampered by injuries, but most of those problems have now been resolved and Paqueta is keen to begin the final phase of preparations.
And he is confident that, despite the challenges they have faced and the possible emotional turmoil of appearing on the continental stage after such an epic qualification, the squad is prepared - mentally and physically - for the Nations Cup.
"In the last few days I have been surprised by the evolution of the players, by their motivation and their attitude - I think they're ready for the start."
Libya's players also say they should not lack for motivation. Midfielder Walid al-Katroushi, who joined the Libyan rebels' fight against the Gaddafi regime, says the tournament means more to the team than simply football.
"This is much more important than just some football cup,'' al-Katroushi said.
"We came here because we want to do something good for Libya. We are not here to enjoy ourselves.
"It's a long time since the country had something to smile and be happy about and that's up to us now.''
After Saturday's game against Equatorial Guinea, Libya go on to meet Zambia and then Senegal in Group A of the tournament, which runs from 21 January to 12 February.
Gabon are the other co-hosts and will stage the final, in the capital Libreville.