Zambia's journey to Gabon will invoke tragic memories
By Kennedy Gondwe
BBC Sport, Lusaka
Last updated on .From the section Football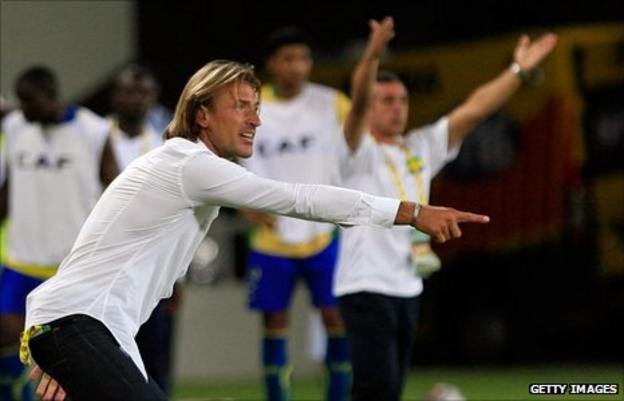 Emotions will accompany Zambia's aspirations to play in the final of the 2012 Africa Cup of Nations in Gabon on February 12.
Since 28 April, 1993, the mention of Gabon has left an indelible mark on Zambia - particularly the football fraternity - because on that day, the country lost its entire national team in a plane crash.
Ironically, it was Senegal - who Zambia face in their first game at this year's Nations Cup on Saturday in Bata - that the Chipolopolo were travelling to face in a 1994 World Cup qualifier when the military plane plunged into the Atlantic Ocean killing everyone on board.
It does not surprise many that the prospect of playing in the final is now a talking point in Zambia.
Though Zambia will be based in Bata, Equatorial Guinea, for their Group A games where they will also face the co-hosts and Libya, the Chipolopolo will play their remaining games in Gabon if they qualify for the semi-finals.
Players, fans, coaches and the media believe achieving that feat, and playing in the final in Gabon, would be a fitting tribute to the fallen heroes.
"As we go to Gabon, every heart will pump so fast when we remember what happened in 1993," Zambia captain Christopher Katongo told the BBC.
"The souls are still there and we have to do something about what happened to that team which perished in Gabon."
Katongo may still have been teething at the time of the crash, while the majority of the present day national team players were still just babies when their heroes died.
But Zambia legend Kalusha Bwalya - who was the team captain at the time - knows the importance of playing in Gabon.
Bwalya was not on the flight because he was scheduled to fly in from Holland, where he was playing for PSV Eindhoven.
"Gabon will bring back a lot of emotions to the Zambian people, [including] myself who was part of the team, and a few others who are going to be there," admits Bwalya, now the president of the country's football association, Faz.
"I have said to the boys there's no pressure on them but they have to know that one of the best teams in the history of African football and world football died off the coast of Gabon.
"We'll get emotional when we are there but football has to be played."
In this year's tournament, Katongo and company carry the mantle to honour the mission of their fallen heroes as they head into a tournament that evokes emotions.
A place in the final in Gabon would bring the likes of midfielder Rainford Kalaba close to the heroics of Timothy "Teacher" Mwitwa, striker Emmanuel Mayuka to Kelvin "Malaza" Mutale, defender Nyambe Mulenga to Eston "Yellowman" Mulenga and goalkeeper Kennedy Mweene to the respected hands of Efford David Chabala.
Zambia awaits.