Hearts boss Paulo Sergio says SPL points penalty would be 'stupid'
Last updated on .From the section Football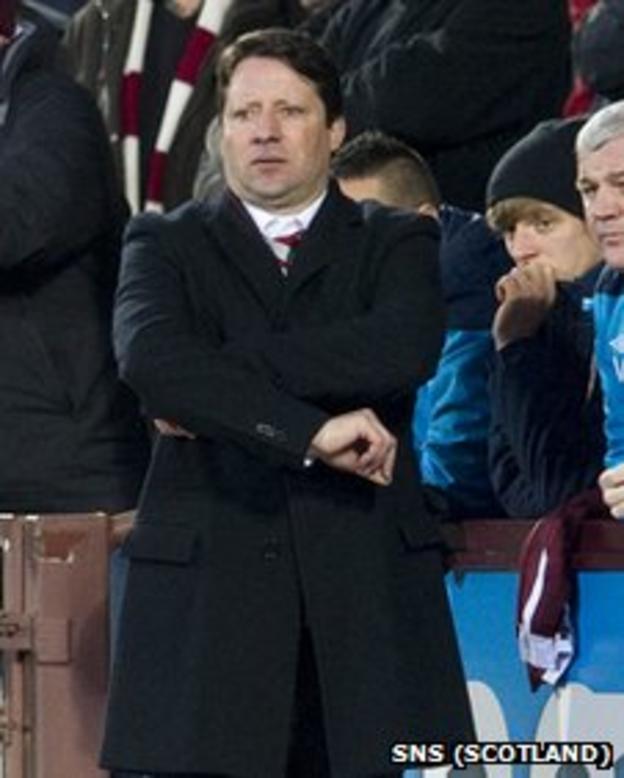 Hearts boss Paulo Sergio says it would be "ludicrous" if the club suffered a points deduction over late wage payments.
"It's a very stupid rule," Sergio said. "Who's going to be punished? It's going to be the players."
Hearts could face sanctions when the SPL rules on the matter late next week.
The Edinburgh club may be fined or face a transfer embargo because of the late payment of player wages.
However, Hearts contend they have "documentary evidence" to prove that January salaries were paid on schedule.
"It's not logical they're not getting paid on time and are going to be punished twice," said Sergio.
Meanwhile, the manager says the players have learned to cope with off-field problems and are now more focused with what they need to do on the pitch.
"I'm very proud of the players," said the Portuguese. "They are doing a really good job.
"When it first came it had a massive impact. Nobody was prepared to deal with this and our results showed that.
"We had bad results for five, six games, but with all the work we've done together we are going to deal with the problems."
Sergio is also keen for the transfer window to close as he seeks to preserve a squad that has already lost Eggert Jonsson, Calum Elliot, Janos Balogh.
"I hope somebody closes that window sooner," he added.
"I can do nothing. It's 12 days until the close of the market; anything can happen."