Brendan Rodgers to sign new Swansea City three-year deal
Last updated on .From the section Football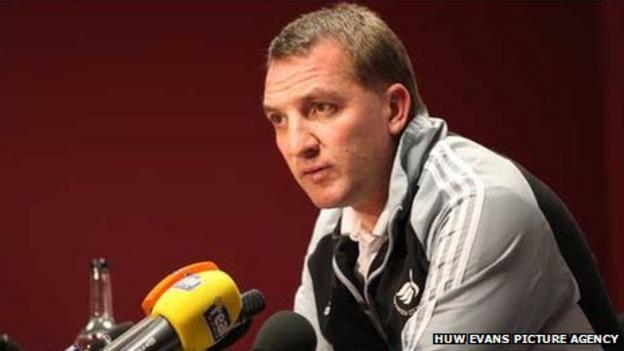 Swansea City manager Brendan Rodgers has confirmed he will sign a new contract until the summer of 2015 within the next few days.
The Swans boss started talks with chairman Huw Jenkins on improving his rolling one-year deal last week.
Rodgers guided the Swans to Premier League promotion in his first season at The Liberty Stadium and Swansea's top-flight displays have been impressive.
"We're pretty much there," Rodgers said ahead of agreeing a three-year deal.
"I spoke with the chairman and we have agreed everything in principle.
"We just need to draft up the paperwork and be presented with it over the weekend, then it will be signed and done and that will be fantastic.
"It was clear to me I wanted to be here. There was very little to discuss and I will be proud to move forward with the project.
"Ultimately my job is to make Swansea a sustainable Premier League club, that's the challenge.
"It looked a massive challenge to get promoted, but since then we have shown we can compete at this level, although we are riding high and playing well the objective is to stay in the league, that would be monumental and give the club more money to invest in the team.
"But the goal is firstly to make Swansea sustainable and you can obviously build from that.
"I'm very honoured and proud to lead such a marvellous club into what is an exciting era in the club's history."
Rodgers, who turned down the chance to become Northern Ireland manager in December 2011, is one of the most coveted young managers in British football because of the style and success of his team on a low budget.
Swansea are currently 13th in their debut season in the Premier League - and already eight points clear of the relegation zone - and Rodgers, who turns 39 on Thursday, is currently preparing his team for their FA Cup fourth round clash at Bolton Wanderers on Saturday.
Rodgers began his contract negotiations just days after Swansea's most impressive win since winning Premier League promotion, a stunning 3-2 triumph over top four regulars Arsenal.
Rodgers replaced Paulo Sousa in the Swansea hotseat in July 2010 and won promotion to the Premier League in last season's Championship play-offs when the Swansea beat Reading 4-2 in the final.