Ross Allen 'good enough' to turn pro says boss Tony Vance
Last updated on .From the section Football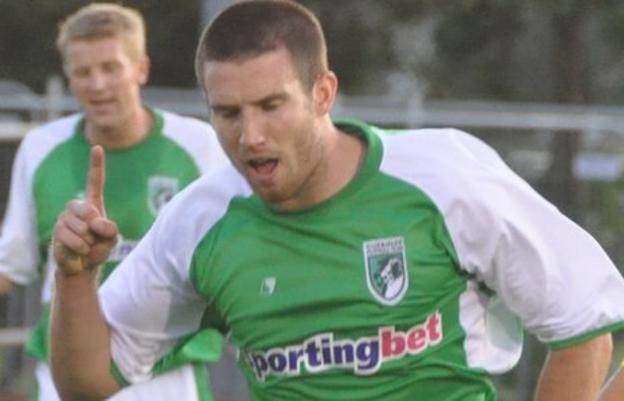 Guernsey FC boss Tony Vance says 45-goal striker Ross Allen is good enough to play in the Football League.
There has been speculation that 24-year-old Allen could be the subject of a transfer bid by a professional club after his goal-scoring exploits.
His goals have helped Guernsey top the Combined Counties League Division One.
"I for one think he's good enough to play at that level but at this point in time it is just pure speculation," Vance told BBC Guernsey.
"It proves we've done something right and proves that Guernsey FC is the right forum for our local footballers to develop at.
"I'm glad it's happening. It's only right because I've always maintained there's talent over here and they haven't had the chance to showcase it. Guernsey FC has given them that opportunity."
And Vance says that Allen could be a valuable asset for any team that takes a chance on him.
The striker has never played professionally but was a key part of the Guernsey side which won the FA National League Systems Cup and represented England at the Uefa Regions Cup in Croatia in 2010.
"They'll be getting a very good player and someone who will score goals at that level," Vance added.
"He could perhaps even make some money in the transfer market if it was a lower league club that came in for him because I do believe Ross is good enough to do that, as are a few of our other players."