Portsmouth annoyed by bid withdrawal
Last updated on .From the section Football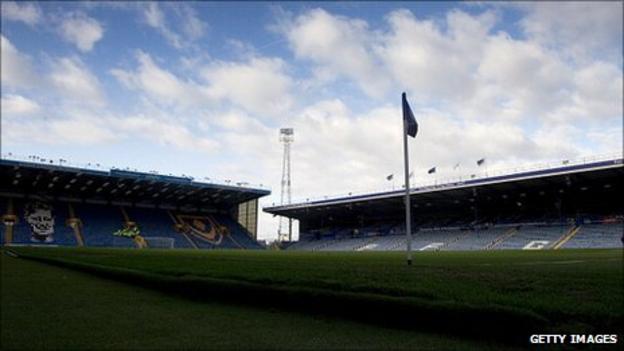 Portsmouth chief executive David Lampitt says that it is "not a massive surprise" that Joseph Cala has withdrawn his bid for the club.
The Italian businessman pulled out of the process on Friday in a dispute over the terms of the sale.
"It is frustrating from our point of view, as time and resources have been wasted," Lampitt told BBC Radio Solent.
"He has not turned out to be who he claimed to be, or do what he claimed he would do. That is disappointing."
He added: "Most people probably questioned the creditability of his proposals and his plans for the club anyway, so that is not a massive surprise."
Cala failed to agree terms with the club's major creditor Portpin, controlled by Pompey's former owner Balram Chainrai, and told BBC Radio Solent on Friday that a planned conference call with the Football League had been postponed.
Pompey's parent company, Convers Sport Initiatives (CSI), entered administration in November, forcing the Championship club to search for new owners.
There is an urgency to complete a deal with fresh backers, as investment is needed if Portsmouth are to meet ongoing running costs.
Lampitt told BBC Radio Solent that the club has failed to pay its £800,000 tax bill to HM Revenue and Customs (HMRC) for the last two months meaning the club owe £1.6m.
"This period, while we search for a new owner, was always going to be difficult from a cash flow point of view," he said.
"The club does not have the funding that would have been there if our previous owner had been in place. It has been a difficult two months to balance the financial position of the football club.
"We are in a difficult position and will remain in a difficult position until the ownership is sorted.
"For the time being, it is a matter between us and HMRC and we have to manage that as best we can."
Lampitt refused to talk about the implications of missing the payments to HMRC, but reports at the weekend suggested the club could face a winding up petition.
Meanwhile, the administrator handling the sale of the club described Cala's decision to speak publicly about his bid as both "extraordinary and disappointing."
Andrew Andronikou is not expecting to finalise a deal until next week, and although earlier this week he told BBC Sport there was a preferred bidder, he now says two or three parties remain in contention.
Andronikou acted as an administrator at Fratton Park in 2010 and has been involved in a similar role with CSI.
Lampitt confirmed that Cala was not the only bidder who had expressed an interest in the club.
"The process of finding a new owner continues. We have got other interested parties, and we have had other interested parties all along," he said.
BBC South understands any purchaser would need to provide £12m as proof of funds, and assurances they could meet another £20m in repayments to former creditors, Chainrai and Alexandre Gaydamak.