Crawley Town bid for Hearts' Ryan Stevenson rebuffed
Last updated on .From the section Football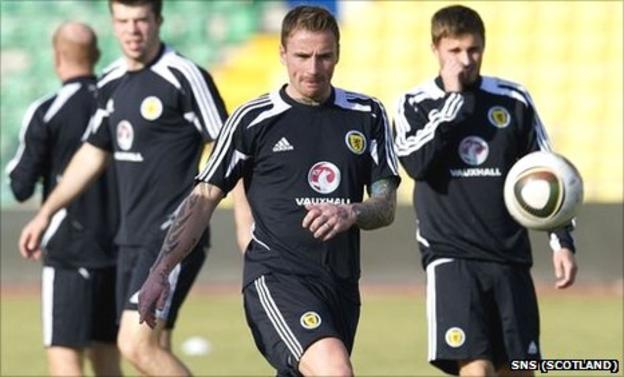 Crawley Town have had an offer for Hearts midfielder Ryan Stevenson turned down, according to manager Steve Evans.
But the League Two club say they will now discuss a pre-contract agreement with the player's advisors that would see the 27-year-old move in the summer.
Stevenson had taken a self-imposed absence from Hearts in December after the late payment of wages and has not made himself available to play since.
The Red Devils failed in a bid to sign Hearts' Rudi Skacel earlier this month.
The 32-year-old Czech midfielder said he did not wish to move to England's League Two.
Stevenson, whose current contract lapses at the end of the season, joined Hearts two years ago and has played as a midfielder and striker.
Crawley's Scottish manager confirmed to his club website that he had failed with bids for Stevenson and Oxford United stiker James Constable.
"I can confirm we have had offers turned down for both Ryan Stevenson and James Constable," said Evans, who is hopeful of retaining the services of Tyrone Barnett despite several bids for the forward.
"We have spoken to Hearts and Oxford United respectively and we respect their right to turn down the offers we made.
"We are some distance apart in what we offered to what those clubs wanted, so we will move on to alternative targets we have identified.
"In respect of Ryan Stevenson, we are now in discussions with his advisors in respect of a pre-contract that would see the player join us in the summer, but we will see how that progresses."
Hearts manager Paulo Sergio suggested a solution had been close, but Stevenson is yet to return to training.
Asked for an update on Stevenson's situation, Sergio said: "I don't know.
"For me, it's a little bit crazy. I don't know what is the point at this moment."
Sergio was more optimistic about the prospect of Skacel extending his stay, with his Hearts contract set to expire imminently.
"I think they are talking and I believe in a happy ending," he said. "Rudi wants to stay and I'm happy with Rudi."