Football League dismisses Andre Villas-Boas's 'B' team suggestion
Last updated on .From the section Football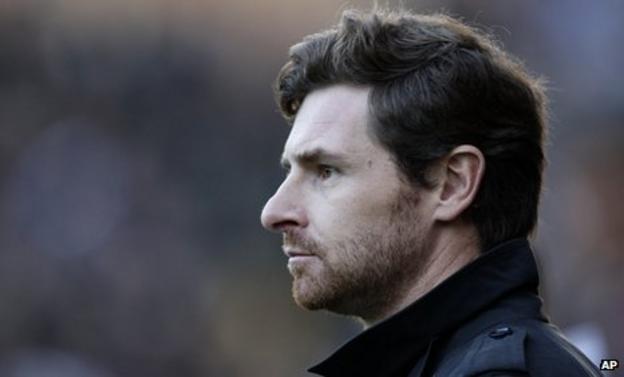 The Football League has rejected Chelsea manager Andre Villas-Boas' suggestion that top Premier League clubs be allowed to field reserve sides in the Championship.
Villas-Boas said the move would help young players make the step up to Premier League football.
But League chief Andy Williamson said Football League clubs should not become feeder sides to the Premier League.
"The suggestion is frankly offensive," Williamson said.
"Our clubs are constituted as sovereign entities which represent their town or city with pride, rather than being a subsidiary of another club in another part of the country," he continued.
"These are senior professional football matches that matter - they are not just platforms for developing other clubs' players."
Villas-Boas said on Thursday that England should follow the example of Spain, where Barcelona's 'B' team play in the second flight.
"What happens in Barcelona is a good model in terms of competitions. They promote talent," he said.
"If your 'B' team plays in the Championship, where they are fourth or sixth and threatening, playing good football, you'd call them up.
"It could be a great benefit because you don't have to work with a 26-man squad, but a 19-man squad and just recall the best young guys with constant activity.
"The reserve team, for all the hard work, is not competitive. It serves the first team, but it doesn't serve the progression of talent coming through.
"The youth development system in England is not right."
Arsenal manager Arsene Wenger said smaller clubs would not support Villas-Boas's proposal.
"The supporters of Barnet do not want their club not to be promoted because the reserve team of Arsenal is in front of them," he said.
"It is very difficult to mix the interests of the smaller clubs with the interests of the big clubs who could have a second team, and could be competitive in the smaller leagues."
Wenger said that the loan system helped young players make the transition from reserve team football to the Premier League.
"We give our players out on loan to the lower leagues. If they manage to convince people they can play in there, they come back," he said.
Wenger also said the forthcoming overhaul of the Premier League's Academy system should aid player development.
"They will create an Under-21 league with all the best teams in England together," he said. "That I find quite interesting."