Wales coach Osian Roberts holds 'positive' talks with Chris Coleman
Last updated on .From the section Football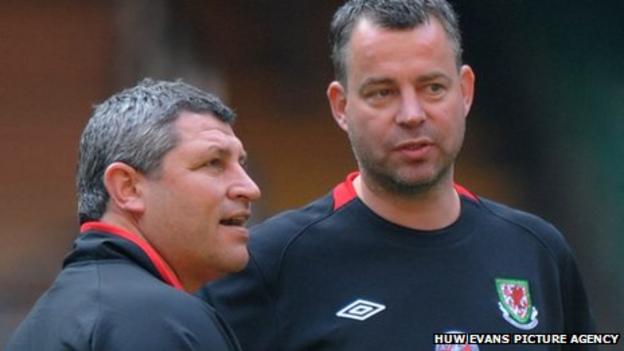 Wales coach Osian Roberts says he has held "positive and constructive" talks with new manager Chris Coleman over his involvement in the national set-up.
But Roberts revealed he had not been given any assurances from Coleman, who has hinted strongly that Kit Symons will be drafted into his support team.
While Coleman is yet to speak to coach Raymond Verheijen, Roberts believes the Dutchman should be retained.
"I know what he brings to the team and what he means to the players," he said.
Roberts and Verheijen were appointed by previous manager Gary Speed, who was found hanged at his home in November, and the future of both coaches has been in doubt since Coleman's appointment on Thursday.
Several leading players have expressed their desire for Roberts and Verheijen to remain in the new set-up, and both could be in charge for the friendly against Costa Rica in Cardiff on 29 February.
Coleman has said he will take a back seat for the game, which has been arranged to honour Speed, and intends to make minimal changes to the structure implemented by his predecessor.
"We had a meeting on Thursday night that went on for a few hours," Roberts told BBC Radio Cymru's Ar y Marc programme.
"It was interesting to hear his plans and ideas. I thought it was a positive and constructive meeting but of course he'll have to talk to the rest of the team face to face before he can decide and reveal what will be the complete picture."
He added: "I wouldn't say he's given any promises. Everything can't be the same, but he's going to try to ensure that we continue in the same way.
"Naturally I understand if he makes changes along the way."
Coleman has suggested that former Wales defender and current Fulham academy coach Symons will be involved in his backroom team.
If Symons is brought in, Roberts says it is imperative that Verheijen, who has worked at the World Cup with the Netherlands, Russia, South Korea and Australia, stays in place.
"What I told Chris is that he has to ensure he gets the team perfect," said Roberts.
"I don't think Kit has the same strengths as Raymond. Who will have the expertise that Raymond brought to the table?
"If Raymond is not going to be there, who's going to do that work? If Kit is quite similar to me, sense tells you that he would take my role and Raymond stays."
Verheijen, currently in Dubai working with Russian side Dynamo Moscow, has stressed he wants to stay with Wales and build on the recent success that brought four wins in the last five games.
Coleman intends to meet the outspoken Dutchman over the coming days, but former Wales captain Kevin Ratcliffe feels Verheijen's involvement with Wales will soon be over.
"I don't think he'll stay, especially having said he wanted to be the main man," said Ratcliffe.
"I don't see how four men [Coleman, Symons, Roberts and Verheijen] will be able to click and I think Ray will be the one to depart."