Africa Cup of Nations: Scouting mission for Lutz Pfannenstiel
By John Bennett
BBC World Service Sport
Last updated on .From the section Football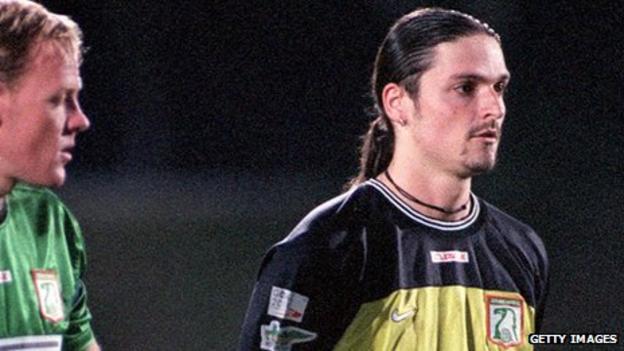 Few people will be busier during this year's Africa Cup of Nations than Lutz Pfannenstiel.
The former goalkeeper is famous for being the only professional footballer to ply his trade on six continents.
And, after a career which took him to 25 different clubs - including Nottingham Forest, Otago United and Vancouver Whitecaps, the German is travelling the world again as an international scout for Bundesliga club Hoffenheim.
Over the next few weeks he will be attending nearly all the matches in Equitorial Guinea and Gabon because he believes the tournament is the perfect place to find new talent.
Pfannenstiel said: "I think it is a responsibility for every proper club in Europe to go to the Africa Cup of Nations to see what the market brings and what hidden talents are running around in Africa.
"We have always had good experiences with African players. We still have three Africans under contract and we had [Senegal striker] Demba Ba, who is now a big star in the English Premier League [with Newcastle]. We have a very close connection to African football."
Some big names are missing from this year's tournament, after the likes of Nigeria, Egypt and Cameroon failed to qualify. But Pfannenstiel says that will make it all the more interesting for scouts from the biggest teams in Europe.
He added: "Every club knows the big guys who are already playing at top level. We're trying to look for young talents who are not in the list for everybody else.
"This Africa Cup of Nations is a perfect platform. It's beautiful that teams like Niger and Botswana are here and maybe you can find one interesting player.
"I will be here for the whole tournament and that means I will see every team at least twice - some teams even more.
"If there is an interesting player, we will not sign a player on the spot. It's more like realising what is on the market here in Africa.
"If you are really interested in somebody, you will follow him anyway at club level to see what's going on.
"I don't think we are in need of a player right now. It's more about watching the market to see what's happening in the future."
As a former player, Pfannenstiel appreciates that some youngsters will find the prospect of playing in the shop window difficult to deal with.
He said: "Sometimes, if a player knows scouts are in the stands, it makes them very nervous.
"I try to be in the background. We are not trying to make contact with a player yet, we're just going to watch and see."