Malky Mackay says criticism will spur on Cardiff in Carling Cup semi
Last updated on .From the section Football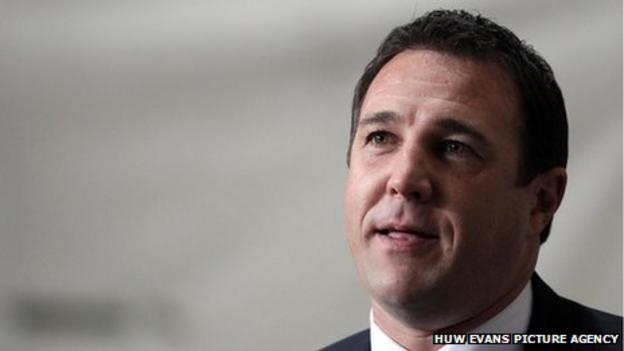 Cardiff City boss Malky Mackay claims opposite number Dougie Freedman has helped motivate his team for the Carling Cup semi-final.
Freedman, whose Crystal Palace side go into Tuesday's second leg at the Cardiff City Stadium 1-0 up, has doubted the hosts' big-game mentality.
"They and their supporters must be scared stiff of failure," Freedman told the Croydon Advertiser.
Mackay responded: "Needless to say, part of the team talk is done."
However, Mackay believes his players will need no extra motivation to reach a Wembley Cup final despite Freedman's comments of their recent failures.
Freedman said in his newspaper column: "[Cardiff] know only too well what it is like to fall at the last hurdle. I've seen Cardiff fall just short so many times over the past few seasons.
"When you get in stressful situations it is difficult not to think of the past, and when you have their recent history of being beaten in the play-offs so often, they must have some very unhappy memories.
"In fact the last time they got over the line was when Lennie Lawrence was their manager, but unfortunately for them he is now sitting in our dugout."
Mackay attempted not to be drawn on Freedman's psychological baiting but said: "As far as the comments are concerned I look after my own club.
"It's not my style to talk about the history of how other clubs are.
"I have got enough going on here at the football club to be dealing with [rather than] what I think of other teams and other players."
Cardiff striker Kenny Miller insisted Freedman's criticism would have little impact on him or his team-mates.
"We don't need any other motivation than the fact we are going to play a game of football and hopefully get to a cup final," he said.
"That is what is spurring us on. It is obviously a bit of mind games and trying to throw the cat among the pigeons.
"But we'll just get on and play and hopefully go and get the result."
Miller, though, accepted that to come back from a goal behind from the first leg at Selhurst Park would not be easy despite Palace being 10 places below them in the Championship table.
"It will be difficult especially the way Crystal Palace play," said Miller, who scored in the 2-0 home league win in November.
"They make it very hard for you to break them down. Chances are kind of few and far between."
Cardiff go in to the tie buoyed by a 3-2 victory over Portsmouth on Saturday, which was decided by Craig Conway's injury-time goal.
Miller believes the result will stand Cardiff in good stead on Tuesday night but remains adamant that the Carling Cup is not the club's priority this season.
"It is always nice to going into an important game on the back of a good result," he said.
"There is no better way to win a game than someone scoring in the 93rd or 94th minute.
"The league is a priority. There is no messing with that and promotion is our number one target this year, but this has been a nice wee distraction and a wee day out at Wembley and a possible cup would be great."