Darlington defiant in defeat
Last updated on .From the section Football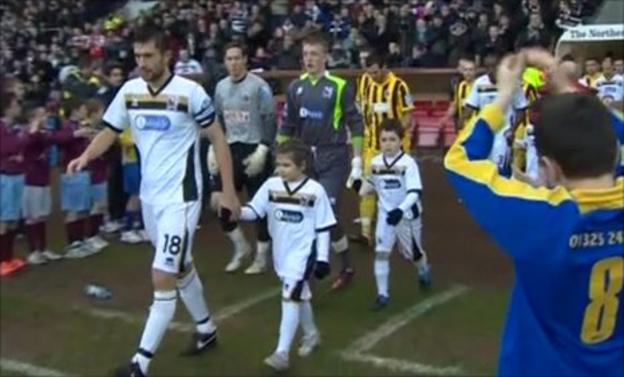 Never has a 1-0 defeat meant so much to a football club.
Darlington supporters were buoyant and defiant after watching their team pull together to fulfil a fixture with Fleetwood that nearly did not go ahead.
Reprieve from the threat of liquidation, albeit temporarily thanks to an injection of funds from the Darlington FC Rescue Group, ensured that Craig Liddle's side would complete their next three fixtures.
Their opponents, chasing promotion, proved too strong for a Quakers side amassed at haste from remaining professionals and youth team players.
Not that the 5,638 crammed into one side of the stadium cared and they rewarded the display with a warm applause at the final whistle.
"I knew what backing we were going to get, because I know what these supporters are capable of," Liddle told BBC Sport.
"I've got my son and my daughter up there, who are proud of me, but for me to be backed like that in front of them, it does give you goosebumps.
"At times I was trying to hold myself together, because I don't really deserve that, the players deserve it.
"I'm overwhelmed by it, it's fantastic."
Unwittingly the visitors were involved in the emotional crosswind.
Cod Army midfielder Danny Rose scored to tear up the fairytale script, although from the messages of support from players to the volunteer staff to manager Micky Mellon's post-match comments - there was nothing but support and sympathy for Darlington; the club, the town and their supporters.
"It was certainly an emotional day, we knew it was going to be like that," Mellon added.
"We're all football people, we hope the people of Darlington have a club to support, and the fans today showed what passion they've got for the football club.
"From our own point of view, taking away from the emotion, it was important we tried to get three points but it was difficult because we all know what's at stake.
"If you're a football-loving person like myself you have got to show concern for a terrific football club with loads of history."
For supporters the sense of relief was tangible even before kick-off, although the rattle of buckets ensured visitors were aware the situation remains grave beyond January.
But this was not a day for frowns.
Fans of many persuasions turned up, those from bitter rivals Hartlepool as well as Middlesbrough, Manchester United and even Hamilton Academicals swelled the numbers at the turnstiles.
"It means a great deal for me and everybody else, that the club is still alive and breathing," one fan told BBC Look North.
Another commented: "Thanks to everybody in the North East for coming along to show their support, and we appreciate it as life-long Darlington fans.
"We need more people from Darlington to come on a regular basis."
The irony of a packed stadium was not lost on Liddle.
A venue that has crippled the club financially was for once its ally, thanks to a fervent support generating a terrific atmosphere.
"That's what you need every week if we want to really move on and make a go of this football club," he added.
"You only do that if you're winning games, you only win games if you can get a competitive squad.
"If we come through this, whether it's me or whoever, they need to build a squad that can do these fans justice."