Traore a major Nations Cup doubt for Burkina Faso
By Nick Cavell
BBC Sport, Malabo
Last updated on .From the section Football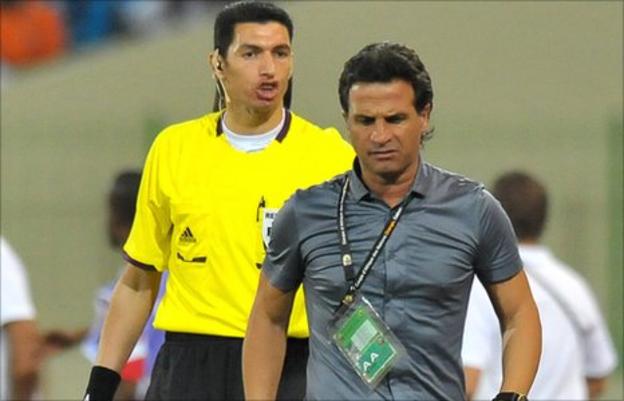 Burkina Faso may be down to a 22-man squad after Abdou Razak Traore was ruled out of Sunday's Angola clash with passport problems.
It is unclear whether these will be resolved in time for the forward to contest the remaining two Group B ties.
"We have lost another player, Razak, because of passport issues," said Burkina Faso coach Paulo Duarte after the 2-1 defeat by Angola.
The Stallions have already lost players at the finals over eligibility issues.
The Portuguese pinpointed a need for improvement in both attack and defence.
The Stallions were particularly slack in defence on Sunday, conceding possession cheaply for both goals, even if they did manage to score their first Nations Cup goal since 2004.
"We need to score more goals and there are 2 or 3 points on positioning that need work," said the Portuguese.
"We gave the two goals to the strikers."
Nonetheless, Duarte was happy with his team's overall performance in a game even if he was upset by Angola's time-wasting antics late on.
Palancas Negras goalkeeper Carlos was booked for time-wasting after calling for medical attention a handful of times late in the match.
"In this game we have one team that wanted to play and another that doesn't want to play," the Portuguese coach said after the game.
"Angola is a good team and they have good players but in the second half they didn't play they just played the long ball straight to the strikers.
"I'm happy with my team and I'm happy with the quality we showed in the second-half."
However he admitted that he has work to do after both Angolan goals were the result of defensive mistakes.
The Stallions play Ivory Coast on Thursday, shortly after Sudan take on Angola in the same Malabo stadium earlier in the day.