Wales manager Chris Coleman unsure on Raymond Verheijen role
Last updated on .From the section Football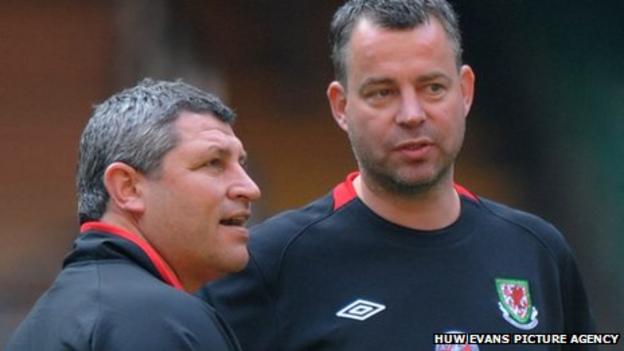 New Wales manager Chris Coleman says he has had no contact with incumbent coach Raymond Verheijen since taking over.
Verheijen is a players' favourite and had wanted to lead Wales with Roberts.
"A lot of people are saying: 'Are you going to want to work with Raymond?' Well maybe Raymond is not going to want to work with me," Coleman said.
"Until I sit down across a table and have a conversation with him, then we'll find out a bit more.
"I've had no contact with Raymond yet. I understand he's in Dubai and it's very difficult to speak with someone across the phone.
"Raymond won't know me. He may know of me but he won't know me and I don't know Raymond. I know things about him but I've never been in his company and I've never had a chat."
Verheijen, who has worked at World Cups with the Netherlands, Russia, South Korea and Australia, is in Dubai to assist Russian side Dynamo Moscow.
Several Wales players, including Tottenham star Gareth Bale and captain Aaron Ramsey, have publicly expressed their wish that Roberts and Verheijen continue in their roles.
Coleman says he has asked the opinion of players, including Liverpool forward Craig Bellamy.
"I spoke with Craig, and he said [Verheijen] was very good, which is fine. You see the results and the results have been very good," Coleman added.
"But I would like to stress the results have been very good not just because of one man, mainly because of one man that's not with us any more. I think some people tend to forget that.
"But I think if someone can play a part and is going to improve us then they won't have a problem with me.
"If I think someone's going to be a problem for me or for Wales, then obviously that's a problem for me that I need to sort out.
"I need to sit across a table with some people and have a chat and find out where they are, see if they want the same as me and when I find that out I can make a decision on a yes or a no."
Coleman says the conversations he has had with Wales players so far have been positive, while he hopes to have face-to-face meetings with some of the senior men soon such as Arsenal midfielder Ramsey and Bellamy.
"The guys have been different class, they really have," Coleman told the BBC's Radio Wales Sport programme.
"Because I had to be very mindful they all had games over the weekend, I put some calls in on Friday. I was only really touching base and I'm looking forward to working with all of them.
"There's still probably four or five I need to get around. I've left messages but they'll either get back to me or I'll get in touch with them, but so far so good."
Coleman continued: "This week I'll give Craig a ring, as I will Aaron and some of the other senior boys as well, and try to get to wherever they are... a little hour, a cup of coffee and a chat."
The new Wales boss also confirmed he is keen to play Mexico in a friendly at the end of the season, probably in New York.