Robin van Persie denies Arsene Wenger rift
Last updated on .From the section Football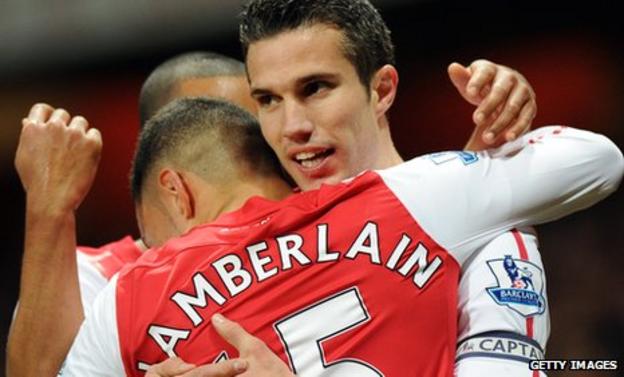 Arsenal star Robin van Persie has denied a rift with manager Arsene Wenger despite the striker's evident displeasure at Alex Oxlade-Chamberlain's substitution on Sunday.
Van Persie was seen to question the decision but denied any falling-out.
"There is no problem, there is no conflict and there is no controversy," the Dutchman said.
"I was not questioning his judgement. I know it's not my place to challenge what Arsene Wenger does.
"I was not having a go at the boss on Sunday - I was just sad to see Alex leave the pitch as he just gave the assist for our only goal."
Speaking to the Sun, he added: "Alex had a calf injury. We did not know that but the boss did and brought Andrey Arshavin on."
Wenger made no mention of the injury when he spoke to the media after the game, and cited fatigue as the reason for the England Under-21 international's withdrawal.
Van Persie, who has scored 27 goals for club and country already this season, is out of contract at Arsenal in the summer of 2013.
He has refused to discuss a new deal until nearer the end of the season but maintains he is happy at the club.
"The manager and I are fine and my relationship with the club is good," he added.
The 28-year-old joined the Gunners in May 2004 and has scored 118 goals for the club in more than 250 appearances.