Wigan cool rumours over Bristol City's Nicky Maynard
Last updated on .From the section Football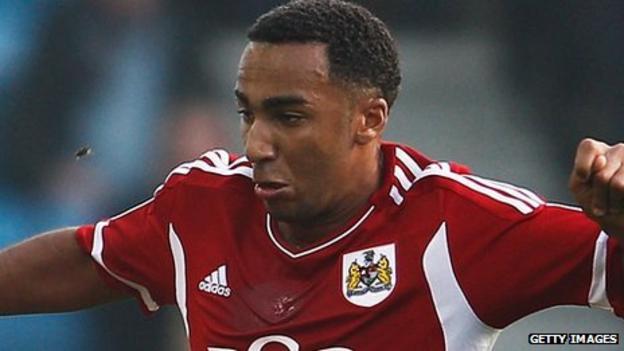 Wigan Athletic have denied that talks with Bristol City striker Nicky Maynard are at an "advanced stage".
The 25-year-old striker has been heavily linked with Wigan and City chairman Colin Sexstone had said talks were "advanced".
But Wigan chief executive Jonathan Jackson said: "An informal enquiry was made last week, but that is really as far as it goes.
"We're disappointed by suggestions that talks are at an advanced stage."
Maynard, who joined Bristol City from Crewe in July 2008 for £2.25m on a four-year deal, is out of contract at the end of the season and was transfer listed last month after failing to agree a new deal.
And City chairman Colin Sexstone had told BBC Radio Bristol: "We are in advanced talks with Wigan and I'm sure we can come to an agreement with them.
"There is obviously the matter of Nicky deciding whether he wants to go to Wigan and whether he can come to terms with them.
"We felt it was only right and proper, as it's getting to the end of the window, that it was made public."
However the Wigan chief executive said: "It is normal for clubs to communicate with each other to ascertain availability of players - especially during a transfer window.
"However, we believe these conversations should remain confidential, otherwise, as we have seen in this instance, it can lead to exaggerated speculation."
Maynard entered discussions over a new contract at Ashton Gate in the summer, when Keith Millen was still manager, but negotiations broke down.
Leicester came in with a reported £6m bid but it was rejected by the Robins.
Millen was then sacked in October and replaced by Derek McInnes, who insisted talks with Maynard were still on going and no decision had been made over the striker's future.
However, the club confirmed in December that Maynard would be put up for sale in the January transfer window and he has since been linked with a move to the top-flight, with Swansea also showing interest in the forward.
Maynard has scored eight in 27 appearances but was left on the bench for Bristol City's win over Doncaster on Saturday.