Hartlepool offer Darlington a benefit game to raise funds
Last updated on .From the section Football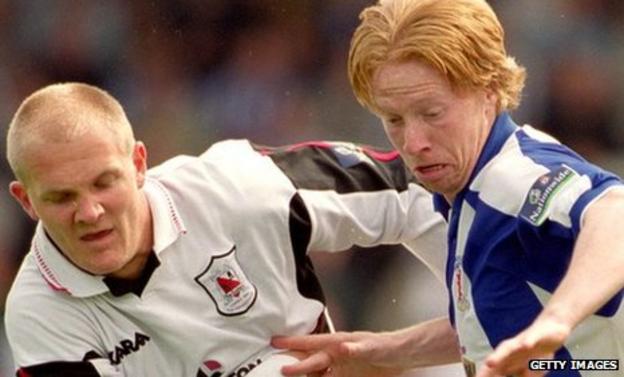 Hartlepool United have proposed a friendly with local rivals Darlington to raise funds for the future of the liquidation-threatened club.
The League One side made an approach to the Quakers, with the prospect of a game at the Arena in the February.
"We'd be delighted to send a team over there," Pools chief executive Russ Green said.
"We're hoping it's possible that we can organise something if they think it'll help so we're waiting to hear back."
Green added: "Clearly we have a great rivalry on the pitch with Darlington but I think that rivalry is healthy in sport so there is no way we want to see them struggling or going out of business.
"We just thought it would be a nice gesture to offer to send a squad over there and hopefully the game will attract a good crowd."
Pools' last visit to the Arena came during the club's 2006-07 League Two promotion winning campaign, when a 3-0 win in March 2007 helped cement their bid in front of a 9,987 crowd.
Although unable to sanction the loan of youth team players to help their rivals due to the player embargo, Hartlepool did provide a mower to help Saturday's game with Fleetwood go ahead.
"Football is a big family and we have to stick together," added Green.
"Especially when it's a local club so we will do anything we can to help."