QPR and Chelsea issue fans warning in bid to lower tensions
Last updated on .From the section Football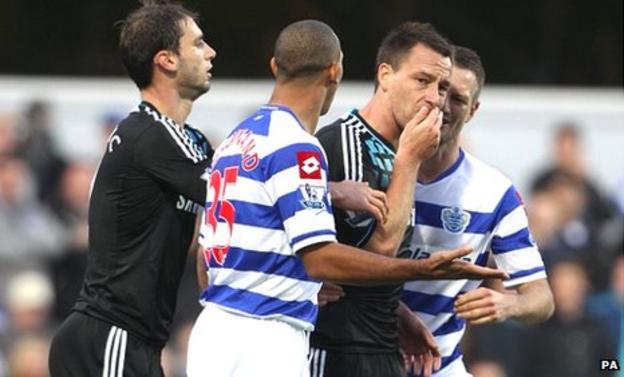 QPR and Chelsea have said they will take action against anyone using discriminatory language during their FA Cup tie on Saturday.
The match will be the first time the two clubs have met since Chelsea's John Terry was charged with racially abusing Anton Ferdinand in October's derby.
A QPR and Chelsea joint statement said: "Discrimination has no place in football or society."
On Tuesday, QPR encouraged Ferdinand to shake hands with Terry before the tie.
Blues manager Andre Villas-Boas has appealed for calm ahead of the game at QPR's Loftus Road ground.
The statement added: "Both clubs enjoy fantastic support. However we would remind fans that, while we want to hear their passion, it's a fact that hatred and abuse is not what being a fan of QPR or Chelsea is about.
"The clubs will work together with the police to ensure that anyone using discriminatory or inflammatory language is identified and that the strongest possible action is taken against them.
"We would urge fans witnessing any form of abuse to report it to a matchday steward.
"Let's make Saturday's match a celebration of football.
"A local derby is always a special occasion and this weekend's FA Cup tie is a unique opportunity to show the world that hatred has no place in our game, our clubs, or our communities."
The Chelsea skipper was charged after his side's 1-0 league defeat at Loftus Road on 23 October.
The England captain, who denies the allegations, will not be attending the hearing at West London Magistrates Court on 1 February. His legal team will enter a not guilty plea on his behalf.
Saturday's fourth-round game will kick off at noon, partly on the advice of police.