Liverpool v Man City: Steven Gerrard warns of Carling Cup exit
Last updated on .From the section Football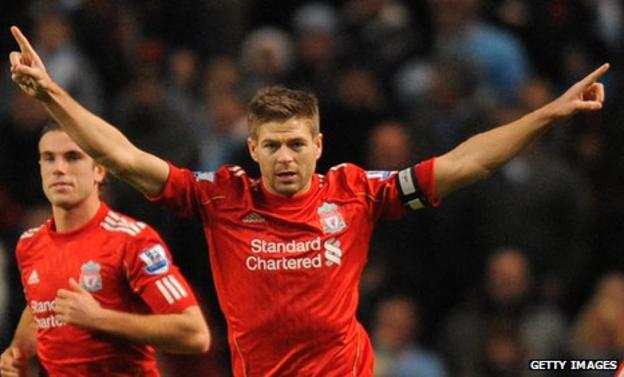 Steven Gerrard has warned his Liverpool team-mates they will be knocked out of the Carling Cup by Manchester City on Wednesday if they do not significantly raise their performance from their Premier League defeat at Bolton.
Manager Kenny Dalglish criticised the players following the defeat.
And Gerrard told the club website: "It was definitely justified."
The Liverpool captain added: "When you put in a performance like we did [against Bolton] as a group you expect criticism, especially from your manager.
"There is no good time to perform like that when you play for this club. You have to win every game.
"The fans won't accept it, they don't deserve it. It's not allowed. Otherwise you get criticised by your manager, like we have all experienced.
"I have been here a long time and experienced days like that and the important thing is to move on from it fast. If we perform like that against Manchester City, there will be no Wembley trip."
Reds boss Dalglish said the performance in the 3-1 defeat at Bolton was the worst since he returned to the club. After the match, he questioned the attitude and approach of his players.
Dalglish said: "In the past we've rightly praised them when they've deserved it, we've given them plaudits when we've done well and we've congratulated them for the way they've gone about their work.
"When you've been critical it doesn't mean to say you're getting any pleasure from it because we're all in it together. It's not the coaching staff and the players, it's everybody."
Manchester City midfielder Adam Johnson believes the pressure will be on the home side in the second leg and expects his side to create opportunities to score at Anfield.
He said: "It's a tricky one for them. Do they try to attack us or try to defend against our quality players for 90 minutes?
"The thing is no matter who we play, we will create chances at some point. We beat them 3-0 at home, so we can score against them.
"No-one is expecting us to go through so the pressure is off for once and we can go there with freedom, play our football and have a go.
"It won't be easy but we are quietly confident."
Liverpool take a 1-0 lead into the match at Anfield, thanks to a Gerrard penalty at Etihad Stadium but Dalglish is adamant the job is only half done.
"We have a slight advantage, we just need to go into the game and compete," he added.
"Hopefully it will be a fantastic occasion for everyone.
"The punters will be turning up, there will be loads of support for us but we need to do something that's going to get the supporters on our side. We can't always leave it for them to lift us, sometimes we need to lift them."
Gerrard, who has won the trophy twice before, in 2001 and 2003, and recently committed his long-term future to the club, wants to add to his silverware.
And with those two finals - and the 2001 and 2006 FA Cup finals - held at Cardiff's Millennium Stadium, Liverpool have not played at Wembley since their defeat by Manchester United there in the 1996 FA Cup final.
"To lift the cup at Wembley would mean an awful lot. To get to Wembley is the target - to win it is the dream."