Portsmouth issued with HMRC winding-up petition
Last updated on .From the section Football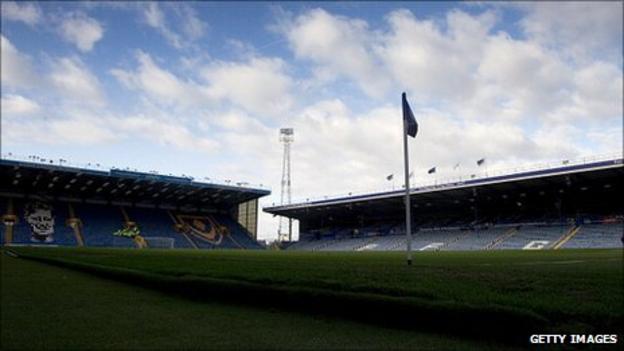 Portsmouth have been issued with a winding-up petition by HM Revenue and Customs over unpaid tax.
A source at HMRC confirmed to BBC Radio Solent that the petition against Pompey over unpaid tax has been published.
Chief executive David Lampitt confirmed on Saturday that Pompey had failed to meet two payments to HMRC.
Portsmouth are searching for new owners after parent company Convers Sports Initiatives (CSI) entered administration in November.
"Ensuring tax is paid on time should be at the centre of a football club's business strategy just as it should be for any other enterprise," said a HMRC spokesman.
"It is only fair to those clubs and to other taxpayers who do meet their obligations that HMRC enforces payment of tax debts owed - and if need be, issues a winding up petition or seeks to appoint an administrator."
Italian businessman Joseph Cala pulled out of a deal to buy Pompey on Friday.
There is an urgency to complete a deal with fresh backers, as investment is needed if Portsmouth are to meet ongoing costs.
CSI's administrator Andrew Andronikou revealed on Friday that Pompey have missed two tax payments of £800,000 to HMRC, totalling £1.6m.
In a statement issued on Tuesday, Portsmouth said the winding-up order was the result of the failure of owners CSI to provide promised funding to support the club financially from November to January.
"One of the reasons for this is that the administrator has not generated expected funds from the sale of other CSI businesses that might have assisted the club's position," the statement said.
It went on to say that the situation may well result in player sales while new owners for the club are sought.
"We still have a significant number of parties interested in acquiring the club who are actively pursuing their respective interests," it added.
"We therefore remain positive that a solution will be found before some of these difficult choices have to be made."
BBC South understands that any purchaser would need to provide £12m as proof of funds, and assurances they could meet another £20m in repayments to former creditors, Balram Chainrai and Alexandre Gaydamak.
The club also said they were still waiting to learn whether they might be docked league points.
"The league are finalising their report on the club's position following the administration of CSI and we are expecting to receive the outcome shortly," the statement said.
"However, we understand that the league may delay their decision until the club's current ownership situation is closer to being resolved."