Equatorial Guinea squad receive million-dollar bonus
By Piers Edwards
BBC Sport
Last updated on .From the section Football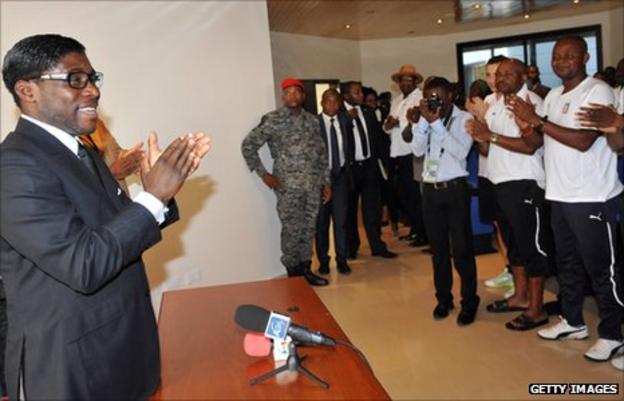 Teodoro Nguema Obiang Mangue, son of Equatorial Guinea's president, has honoured his promise to pay the Nations Cup co-hosts' squad $1m (£641,000).
He handed over a cheque to captain Juvenal Edjogo on Tuesday afternoon.
Obiang, the country's agriculture minister, had promised the players the money if they beat Libya in the opening match of the Africa Cup of Nations.
The National Lightning won 1-0 but left it late with Javier Balboa earning the win just three minutes from time.
Balboa himself earned an extra $20,000 (£12,800) for scoring the goal on Saturday, as did Ivan Bolado.
Bolado had the ball in the Libyan net in the first half, only for the goal to be disallowed, but Obiang overlooked this as he handed over the money.
'Serious concerns'
Known as Teodorin in Equatorial Guinea, Obiang also pledged more bonuses to the squad should they continue their Group A success.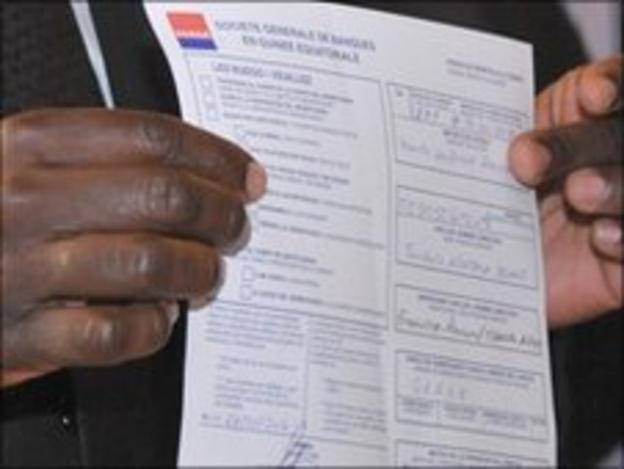 But rights groups have expressed concern about the prize money.
"It is remarkable that the president's son has managed to find such a large amount of cash to help motivate his team to win. But the question must be, where has this money come from?" Adrian Lovett, Europe director for the campaign group One, told the BBC in a statement.
Last year, the US government began legal proceedings to recover assets worth more than $70m (£44.8m) from Obiang, who is accused of using his ministerial position to plunder Equatorial Guinea's wealth.
Most residents of Equatorial Guinea, where President Teodoro Obiang Nguema Mbasogo has been in power for more than three decades, live below the poverty line - despite the country's vast oil revenues.
"It raises serious concerns when a government official like Teodorin gets enormously wealthy in a country with widespread poverty, especially when the government operates in secrecy by refusing to publish its budgets or reveal how much money it receives from oil," Tutu Alicante, executive director of non-governmental organisation EG Justice, told the BBC.
EG Justice and One want the European Union to adopt new rules to force multinational companies operating in Equatorial Guinea to publish the payments they make to the government for the right to extract oil.
Obiang refused to divulge how much money he would give the national football squad but news of future bonuses may boost the players ahead of their second match against Senegal on Wednesday.
This is the co-hosts' final match in Bata, the Equatoguinean city on the African mainland, with their last group match against Zambia taking place in the capital Malabo on 29 January.
Equatorial Guinea, the lowest-ranked team at the finals according to Fifa, currently lie second in Group A, trailing the Zambian group leaders on goals scored.