Mario Balotelli could be forced out of English football - agent
Last updated on .From the section Football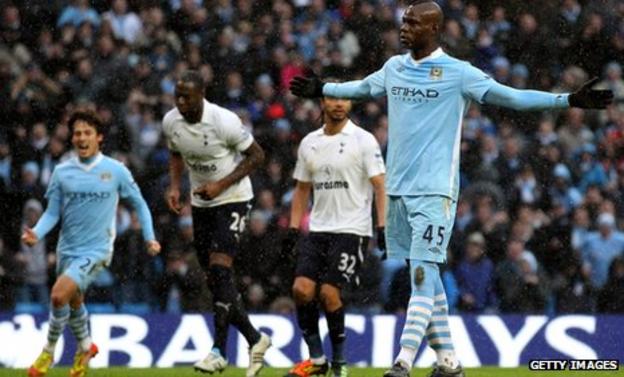 Mario Balotelli's agent has warned the striker could quit English football if he continues to receive what he sees as unfair treatment.
Balotelli, 21, is facing a four-match ban after being charged with violent conduct by the Football Association.
The City forward appeared to stamp on Scott Parker before scoring a late penalty to secure Manchester City's 3-2 win over Tottenham on Sunday.
"I think he feels persecuted; he cannot go on like that," said Mino Raiola.
Agent Raiola added on BBC Radio 5 live: "We had a very clear image of his career at the beginning and I told the press openly Mario will have to stay at Manchester City for at least three of four years, helping the club on this important project and grow as a man and a player.
"Obviously if he's being banned every three or four games for one reason or another we cannot go on like that and there needs to be an end to that.
"So if that's the case and English referees and the English FA would like Mario to go out of England then we would take that seriously in consideration, even if that's not and was not our intention.
"He [Mario] is very disappointed about the decision. He loves playing in England. He keeps asking 'why always me, why does it always come back to me?' He loves playing in England and I think he feels persecuted."
Balotelli joined City in a £24m deal from Inter Milan in the summer of 2010 but has been involved in a number of controversies on and off the pitch.
He has been sent off three times, was unable to continue after suffering an allergy to the grass in Kiev, threw a dart at a reserve team player and escaped injury after a firework was let off in his house.
Raiola is adamant that his player did not deliberately hurt Parker in the win against Spurs, insisting that TV replays back up his claim.
"He didn't do anything on purpose, he was clearly pushed and was out of balance and put down his feet," said the agent.
"That's also clear in the slow-motion replays."
Raiola had earlier suggested he felt there might be a conspiracy against foreign players such as Balotelli and City team-mate Vincent Kompany, who was also suspended for four games earlier this month.
He told Italian reporters: "I want to be balanced but I'm worried because when English players are involved in more serious things, nothing happens, whereas when foreigners are involved, such as Balotelli or Kompany, they were treated harder.
"If I find that there is something strange against Balotelli, my duty is to protect and then take him away.
"In this case I would speak with City, I'd ask them Balotelli's price and would look for the best team for him, as there are only six or seven teams he can play for."
Manchester City have yet to decide whether to appeal against the violent conduct charge, but first-team coach David Platt hinted on Tuesday that the club would reluctantly accept the decision.
Balotelli has until 1800 GMT on Wednesday to respond to the charge.
Earlier this month the FA rejected City's appeal against Kompany's controversial sending-off in their FA Cup third-round defeat by Manchester United.
Kompany was handed a four-match ban for his second red card of the season.