Carlos Tevez's Manchester City dispute costs striker £9.3m
By David Ornstein
BBC Sport
Last updated on .From the section Football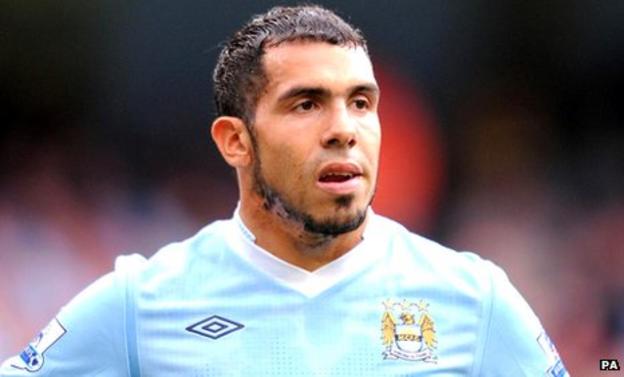 Carlos Tevez's dispute with Manchester City has cost the Argentine striker £9.3m in wages, fines and lost bonuses.
It is understood he has not been paid his salary, estimated at £200,000 a week, since the end of November.
And he has also been fined £1.2m for gross misconduct over his refusal to return from South America.
Meanwhile, City chairman Khaldoon al-Mubarak has criticised AC Milan for their conduct in trying to sign Tevez, suggesting they are out of the running.
Tevez's preferred choice would be AC Milan but Al-Mubarak criticised both the club and their vice-president Adriano Galliani, saying the Italians' discussions with Tevez and his advisers had been "premature".
"As things stand, AC Milan are not an option for Carlos," said Al-Mubarak, who will only let Tevez go for £25m, plus add-ons.
Speaking publicly on the subject for the first time, Al-Mubarak told the National newspaper in Abu Dhabi: "If they want to be a consideration in this transfer window, they would do better to stop congratulating one another and begin to look at how they would meet our terms.
"Unless we receive an offer we deem appropriate, the terms of his contract will be enforced.
"Inter Milan and Paris Saint-Germain approached discussions with us in good faith. It is always a positive experience to deal with people with a professional approach."
The current saga began when the 27-year-old was fined two weeks' wages after boss Roberto Mancini alleged the striker refused to come on as a substitute during City's tie against Bayern Munich in a Champions League tie in September, although Tevez claimed there had been a misunderstanding.
He left for South America and his refusal to return saw him fined six weeks' wages (£1.2m).
That fine could be the subject of an appeal to the Premier League after Tevez's initial challenge was rejected by Blues directors Marty Edelman and Mohamed al-Mazrouei on 7 January.
Prior to the Bayern match, Tevez forfeited £6m in loyalty bonuses because of his previous requests to leave City.
Tevez's current deal does not expire until June 2014, but the Argentine has not played for City since 21 September and is currently in his home country.
"Carlos has said many times before that money has never been a motivation," said a spokesman for Tevez.
"We reached an agreement with Manchester City in terms of his wages when he returned to Argentina and nothing has changed on that front. Now all Carlos wants to do is get back to playing football again."
City and Tevez want his departure to be confirmed before the end of the January transfer window but the club are unwilling to reduce their fee or let him leave on loan.