Striker Nando Rafael cleared to play for Angola
Last updated on .From the section Football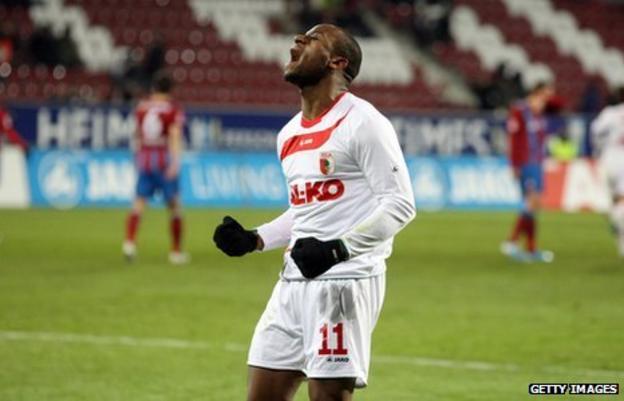 Angola striker Nando Rafael has been cleared to play at the Africa Cup of Nations, after missing the Palancas Negras' first game.
Fifa confirmed that Rafael, who played for Germany's under-21's, was now eligible to play for Angola.
The Angola Football Federation (FAF) only began the official process for him to swap allegiances last Friday.
Rafael missed Angola's Group B opener against Burkina Faso as a result, but is now free to play against Sudan.
"I'm very happy to be here and I'm ready and when the trainer needs me I definitely think I can help this team," the 28-year-old told BBC Sport.
"The good thing is that I'm fit and I've been training for a while and been learning a lot of things - because everything is new for me."
The forward, who insists he can fit in with new team-mates despite never having played a competitive game with them, says he was always confident of playing for the Palancas Negras.
"It was a nice feeling [to finally get the clearance] - but I already believed that it would be a successful decision because I never doubted that I'd able to play for my country."
Fifa told BBC Sport that its player status committee met on Tuesday and decided that Rafael was now eligible to compete at the Nations Cup in Equatorial Guinea and Gabon for Angola.
The world governing body last week said it had only received the official request from the FAF for Rafael's swap on the day before the tournament started, adding it could not say at the time how long the process could take.
The German Football Federation also told BBC Sport that it had sent off the letter necessary to help complete Rafael's switch of allegiance.
Angola began their Group B campaign on Sunday with a 2-1 win over the Burkinabe in Malabo.
They will now have 28-year-old Rafael - who plays his club football with FC Augsburg in Germany - for their remaining group games against Sudan on Thursday and tournament favourites Ivory Coast on Monday.
Angola coach Lito Vidigal, however, said his preparations for the team's next game would not change, following the confirmation of Rafael's availibility.
"[Rafael] is one of the 23 [in the squad] and, like the others, if he has the chance to play he will play," Vidigal told the BBC.
"We work with a team - we have our first team and we have our substitutes.
"That doesn't mean to say that a player who starts one game can't be a reserve for the next one.
"If any player not in the first team has to play they all know what their jobs are - when to attack, when to defend and how they have to play.
"They work in an integrated way."