Eq Guinea defender's journey from Monrovia to Malabo
By Matthew Kenyon
BBC Sport, Bata, Equatorial Guinea
Last updated on .From the section Football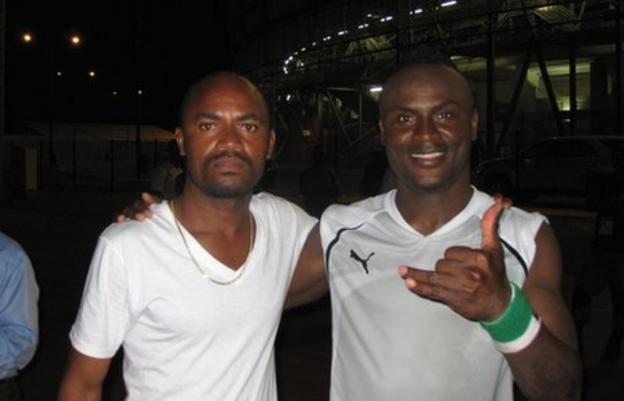 Equatorial Guinea can rely on huge support for their Africa Cup of Nations campaign at home of course, but there is also strong backing for them in Monrovia, the Liberian capital.
This is due to the fact that Laurence Doe, a powerful defender for the Nzalang Nacional, was born in Liberia, and has family and friends there urging him to succeed.
Doe's life here began six years ago, when he was signed by a local club, after previously playing in Mali.
He had hoped to represent Liberia at international level, but the call never came.
And after qualifying through residency, he is happy to wear the colours of his adopted country, and to have helped them to an historic first victory in the Nations Cup over Libya last Saturday.
"I feel very happy and very proud because [although] I was born Liberian I am now a Guinean - [Equatorial] Guinea is my home, I have my wife and son here now," Laurence told the BBC.
A share of a $1m bonus has also come his way after the team beat Libya 1-0, but Laurence is already satisfied with his life in Equatorial Guinea.
"I am a Guinean, they take care of me, the government take care of me here.
"I play in Asia [in Oman] but then I come home here when I have done my job."
Most of his extended family is still back in Liberia, but there is one close relative here to see him play - his brother, Prince Diligent Doe.
Prince flew in ahead of the Cup of Nations and is thrilled to be able to see his brother on the continental stage - the pair have not seen each other since 2007.
"The first time I entered the stadium tears came to my eyes because I was overjoyed to see my brother in the Africa Cup of Nations," Prince said.
"I'm very proud of him, proud of the Doe family and of Liberia - many Liberian people were watching him, including our father, our mother, our brothers and sisters, nephews, cousins, friends and neighbours.
"They were too happy to watch the game [against Libya] and see him performing excellently."
For Laurence though, the job is not yet done, he still has ambitions for his team and for himself.
"The confidence [amongst the team] is 100 percent, because we're not only playing for today, we're playing for tomorrow," he said.