FA chairman Bernstein defends ref over Balotelli charge
Last updated on .From the section Football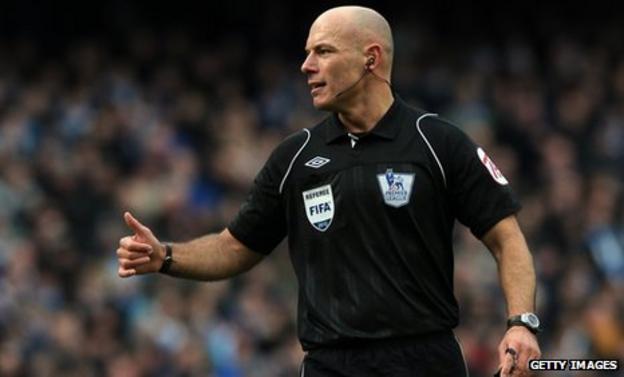 Football Association chairman David Bernstein has backed Howard Webb following Manchester City striker Mario Balotelli's violent conduct charge.
But Bernstein insists: "His ability and integrity are beyond question."
City will not appeal against the charge for the alleged stamp on Spurs midfielder Scott Parker, which Webb did not include in his report.
As a result, 21-year-old Balotelli will serve a four-match suspension which rules him out of City's Carling Cup semi-final with Liverpool at Anfield on Wednesday.
The Italian international will also miss the club's upcoming Premier League clashes against Everton, Fulham and Aston Villa.
Balotelli's agent Raiola had alleged that the Yorkshire official changed his mind over the incident once Spurs boss Harry Redknapp had spoken out in the aftermath of a dramatic finale at the Etihad Stadium, which culminated in the Italian coolly converting a match-winning stoppage-time penalty.
Raiola also warned that the striker could quit English football if he continues to receive what he sees as unfair treatment from officials.
City assistant manager David Platt has also said that he felt Webb, who refereed the 2010 World Cup final and has been selected for the Euro 2012 championships, had seen the incident in real time and that the player should not have been charged.
But Bernstein insists: "Howard Webb is a fantastic referee and a great ambassador for the sport.
"He has the utmost respect from within football in England and around the world.
"Referees make these decisions with honesty and integrity. They do not have the benefit of numerous camera angles and replays.
"We all have a duty to respect our referees. To question their integrity or imply anything other than total impartiality is reckless and unfounded.
"It harms the perception and treatment of referees at every level of football, and we must not allow that climate to exist."
The FA added in their own statement: "The FA is only able to take retrospective action where a match official has indicated that they have not seen an incident.
"Specifically relating to the incident involving Mario Balotelli, Howard Webb did not see the incident but, on review, confirmed that he would have sent the player off if he had seen it at the time.
"The parameters and laws of the game are set by FIFA and not the FA."
Earlier this month, the FA rejected City's appeal against Vincent Kompany's controversial red card in his side's FA Cup third-round defeat by Manchester United.
Kompany was handed a four-match ban for his second red card of the season.