Co-hosts target further glory after 'explosion' of joy
By Matthew Kenyon
BBC Sport, Bata, Equatorial Guinea
Last updated on .From the section Football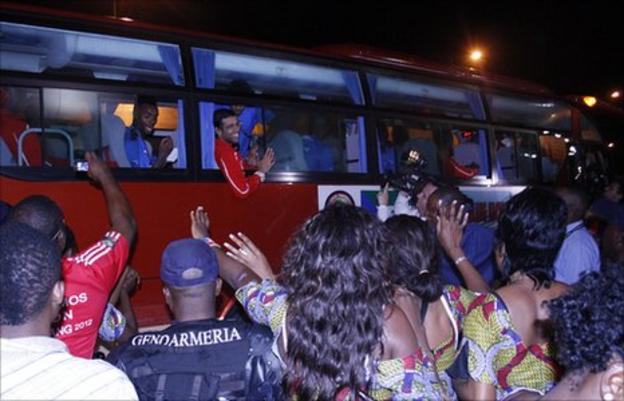 Equatorial Guinea captain Juvenal Edjogo says the Africa Cup of Nations co-hosts now want to go as far as possible after reaching the last eight.
"We want to continue this dream - it's special for us," said Juvenal.
"This is an explosion for our fans - we are happy for the victory, for the qualification and for our supporters."
The victory will also bring further unspecified financial reward for the players, who have already been visited by agriculture minister Teodoro Nguema Obiang Mangue, the son of Equatorial Guinea's president, who handed over their initial award.
After the final whistle, the players celebrated a marvellous performance which ensured their place in the last eight after just two matches, while also sending the fancied Teranga Lions home.
It was a superb, battling performance by Equatorial Guinea in the face of a Senegal side who pressed hard and created chances.
Yet the West Africans could not cope with the force of home advantage and the terrible condition of the pitch, which had been waterlogged in a torrential downpour before Wednesday's matches.
"Senegal is a great team - [but] they needed a good score, and we knew they needed a goal," Juvenal told BBC Sport after the historic win.
"We profited from the situation in the second half. We played well and this is justice."
On a tactical level, Equatorial Guinea played as well as Zambia had done in their opening day 2-1 win over the Senegalese.
"We started to play long balls in the first half but in the second half we played the ball on the ground because they didn't have the speed," defender Laurence Doe said.
"For me it's a surprise because this is the first time we're participating in an Africa Cup of Nations.
"Our team is very young - I'm very happy to be in the second round because this is the first time in our history that we are in the Cup of Nations."
Juvenal praised his side's spirit in coming back to win the game after they conceded an equaliser after 89 minutes of play.
"We fought to the end - we are at home, and we have to do it," said a man standing in for injured Rodolfo Bodipo, the regular captain.
"For us it's a pleasure to play in this stadium in front of our supporters and we fought to the last second."
Team officials have said that the squad will not leave their base in Bata until Saturday, just the day before the National Lightning meet Zambia in Malabo.
Whatever happens in that final group game, Equatorial Guinea are already into the knock-out stages - meaning this is a side that now has real ambition.