Jose Mourinho criticises Barcelona tie referee after Real Madrid exit
Last updated on .From the section Football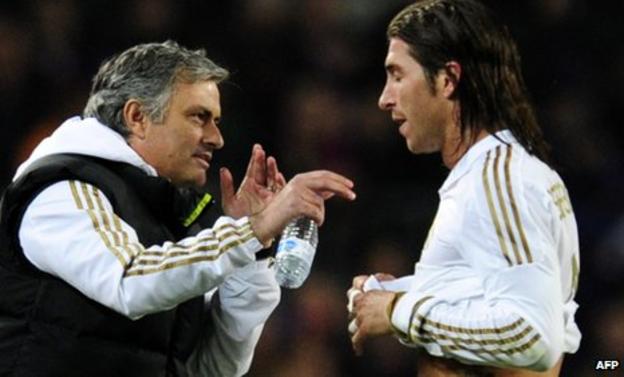 Jose Mourinho has claimed that some of his Real Madrid players believe it is "impossible to win" at Barcelona's Nou Camp following their Copa del Rey exit.
Eight yellows were given to Real, including two to Sergio Ramos - the 13th dismissal of his Bernabeu career.
In apparent criticism of the referee, Mourinho said: "I heard [some players] say it was impossible to win here."
Real, who have won only one of the last 14 El Clasico encounters against Barca, dominated the first half but found themselves a goal down at the break - 3-1 on aggregate - after Lionel Messi danced through their defence to find Pedro.
And things got worse for the visitors when Dani Alves's fierce drive into the top corner earned the hosts a three-goal cushion.
But strikes from Cristiano Ronaldo and Karim Benzema meant Real only needed one more goal to complete a stunning comeback.
But Madrid could not find a way back and Mourinho - whose future at the Spanish giants has been called into question after he was jeered by fans last week for playing too defensively in the home leg - denied he had got his tactics wrong.
"No," he replied when asked whether he had made a mistake.
"We played a good game, the players played a very good game. We came here looking to win. We knew we were behind, we were motivated, wanted to win."
But Mourinho questioned whether visiting sides got their fair share of refereeing decisions at the Nou Camp.
"I have played here with Chelsea, Inter [Milan] and Madrid various times and this is nothing new," he said.
"I will congratulate Barcelona for what they did at the Bernabeu last week but not for the qualification."
Defender Alvaro Arbeloa agreed with his manager about the referee's performance, saying: "We were much better than Barcelona, we had a lot of opportunities but the referee lost it in the little details. We would have preferred it if the cards had been more evenly distributed."
But Barcelona defender Gerard Pique said Real were lucky not to have had another man dismissed.
He said: "The referee made mistakes in all senses, but he did the best he could. [Lassana] Diarra's play [in which he hacked Lionel Messi down having already been booked] was a clear sending-off."
His manager, Pep Guardiola, did not want to be drawn on that, but admitted he was relieved to have reached the semi-finals.
"Madrid is a great team and because of that this victory has great merit," he said. "Madrid played very well, but over the 180 minutes we were deserving winners. They played without pressure, because they knew they had nothing to lose.
"It is more difficult to beat Real Madrid every time we play them and that is why we are so happy."