Walter Smith concerned by Rangers' financial plight
Last updated on .From the section Football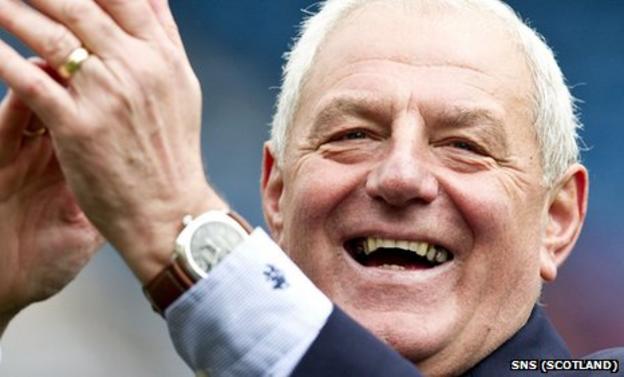 Former Rangers manager Walter Smith fears the club could face a barren spell similar to the early 1980s if financial problems persist.
Smith was forced to cut back his squad in his second spell in charge and, despite a change in ownership, concerns persist over Rangers' financial health.
"Unless you have a level of finance, it's going to be extremely difficult to compete," he told BBC Scotland.
"If that continues," he added, "you go back to the level pre-Souness".
Prior to the arrival of Graeme Souness as manager in 1986, Rangers had failed to win the league title for nine years.
But the Souness era heralded an unprecedented level of investment at Rangers, establishing them as the dominant force in Scottish football for the next decade and more.
Persistent spending beyond the club's means, however, led to unsustainable debt, the repercussions of which are still being felt today.
Allied to the spectre of a potential multi-million pound tax bill, Smith admits he fears for the club.
"I felt this year the squad needed major investment if they were going to carry on the success (of winning the last three SPL titles)," he added.
"I felt they needed four or five new players at playing level, not squad level, to bolster the team.
"There hasn't been that major investment and it starts to become (impossible).
"With injuries to Steven Whittaker, Kyle Lafferty and Steven Naismith especially, there are no adequate replacements and the team suffers.
"Not getting the amount or the standard of players in is beginning to tell. There's still an opportunity to get players in, but it looks like they're not going to be able to spend a lot of money."
Rangers striker Nikica Jelavic has been continually linked with a move away from the club, but Smith believes it is still possible he will remain at the club for the rest of the season.
"A few years ago I had to tell everybody they were up for transfer, but very few of them were transferred," he went on.
"Not a lot of clubs in England now have that level of finance (to buy Jelavic) at this time of year. There have been very few big transfers in England (this month). So it's a bit early to say Jelavic is going to leave.
"If he did leave, from what we read, it wouldn't look as though Rangers are in a position to replace him, which would be a huge blow to getting the championship back."
Unsurprisingly, Smith believes Rangers, who trail Celtic by four points in the league, are still capable of claiming a fourth consecutive title.
And despite the club's travails, Smith is sure his successor Ally McCoist will not be ruing his decision to take the job.
"If he was sensible about it, he might have (considered the likelihood of having little money to spend when taking over)," said Smith.
"He gave up quite a lot to come in and work with me because of his keenness to be involved at Rangers.
"Part of my decision to leave was to avoid them (McCoist and Kenny McDowall) hanging on as they'd been promised the opportunity to manage.
"I tried to explain how I felt the club's position was. He knew all of that, but nothing could persuade him not to take the job.
"He went into it with his eyes open and I'm sure he doesn't regret it."