Ex-Wales international Nathan Blake reveals racist death threat
Last updated on .From the section Football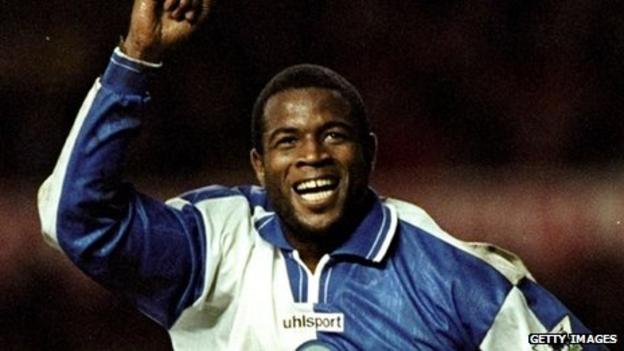 Former Wales striker Nathan Blake has revealed he was once the victim of a racist death threat.
Blake says he received the threat in a package while playing for Premier League side Blackburn Rovers.
The 39-year-old received the package after withdrawing from a Wales squad, alleging racism.
"Inside were some nuts and also some abusive writing," Blake, who also played for Cardiff and Bolton, told BBC Wales' Sport Wales programme.
"But inside also was a picture of Jill Dando [murdered BBC presenter] with a picture of a gun with a bullet going towards her head. Underneath was written, 'you're next'.
"The club captain wanted me to take it to the police. But you tend to chuck these things away and move on. That was just one of numerous [racist] things that happened to me in my career."
Blake, who played 29 times for Wales, spoke of his experience after the issue of racial abuse has crept into football in recent months.
Liverpool's Luis Suarez is serving a ban for racially abusing Manchester United defender Patrice Evra and the allegation that Oldham's Tom Adeyemi had to endure racist abuse from a section of the Liverpool crowd during an FA Cup match at Anfield.
"The racial element - I don't think people quite understand the nerve that touches because of the history involved," insisted Blake.
"I had made various complaints and pulled out of squads. It had been well publicised and that's when I received the parcel."
England captain John Terry is due to appear before magistrates on Wednesday, 1 February on a racially aggravated public order offence - something he strenuously denies.
Both Blake and current Cardiff City and Wales striker Robert Earnshaw say that if Terry is found guilty then it would be difficult for him to carry on as England captain. 
"Could John Terry carry on as England skipper? That would be hard because this goes beyond football," said Earnshaw.
"Things obviously have to be proven first, but if he was found guilty then a line would have been crossed."
Sport Wales, BBC Two Wales, Friday, 27 January 2200 GMT