Jose Mourinho is 'far from finished at Real Madrid'
By Andy Brassell
European football expert
Last updated on .From the section Football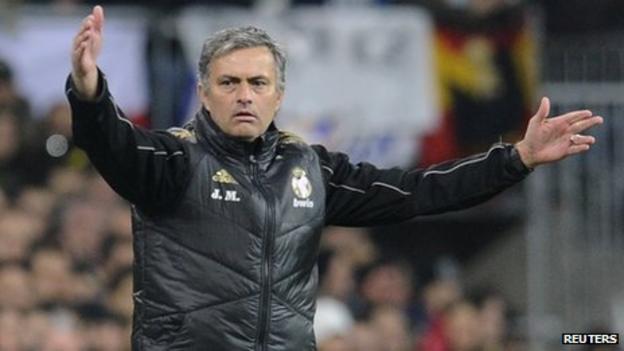 After Real Madrid fans whistled Jose Mourinho for the first time against Athletic Bilbao last weekend, a bit of support in El Clasico should have been a welcome lift. Yet it was a partisan Camp Nou crowd chanting 'Nosotros te queremos, Mourinho quédarte' ('We love you, stay Mourinho') as Barcelona took a 2-0 lead in Wednesday's Copa del Rey tie.
It seems surreal to talk about the future of a coach who has led his side to a five-point lead at the top of La Liga. It is even more so when you consider the second-placed team is widely accepted to be the greatest of the modern era. But it is not just the style of Barcelona that has left Mourinho exposed.
In his recent BBC Sport blog in tribute to Brazil legend Socrates, Tim Vickery wrote "…football and life are not just about what you do - the way you do it is at least as important." If that is a general truism, it is one that carries even more weight at the Bernabéu.
Real Madrid's history is one not just of achievement but glamour, stretching from Alfredo Di Stefano in the 1950s to Zinedine Zidane in the 21st century. Therefore many fans and pundits took Mourinho's circumspect tactics to last week's first leg against Barça as an affront to the club's name.
If Pepe has to bear personal responsibility for his own conduct in that match, the prevailing feeling is that his underhand gestures were just one reflection of Mourinho's destructive approach.
The editorial in pro-Madrid sports daily Marca the day after that first leg was headlined: "Mourinho went too far." Given that he was sent off in a Champions League semi-final and accused of eye-gouging Barcelona's assistant coach Tito Villanova among the various clásicos of 2011, this was saying something.
What has given the doubt over Mourinho's future credence is the suggestion that he is being questioned within the club, as well as outside it. On Saturday Marca gave a detailed reproduction of an angry training ground exchange alleged to have taken place between the boss and Sergio Ramos.
Mourinho was claimed to have told Ramos: "You killed me in the mixed zone" after the Copa del Rey first leg match, referring to the defender's comments to the media on the team's tactics. Captain Iker Casillas later became embroiled in the row as Ramos defended himself. The fine detail of the story, and its presence in a supportive publication, inferred a leak from an unhappy party within the club.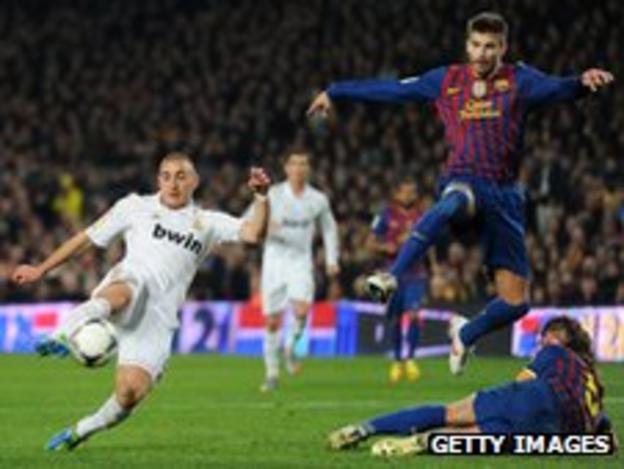 It's not the first time Mourinho has been portrayed as paranoid. After the Champions League semi-final first leg loss, Spanish media reported that he briefed his players to criticise the referee's performance. Karim Benzema told journalists that he was "not here to talk about referees." The France forward was not selected for the return, with the implication that Mourinho had punished him for breaking ranks.
Benzema's superb form since proves Mourinho's ability to mend fences, and it is thus premature to talk of an imminent departure. There is also a real paucity of attractive candidates to replace him.
Arsene Wenger has again been rumoured to appeal to the club's board, but it is hard to think of a role in world football that is more opposite to the 'super-manager' role he currently occupies at Arsenal.
Last night's stellar performance will not be enough to completely kill speculation that Mourinho will pack his bags in the summer. Yet it was another illustration of his ability to consistently shock.
This time, he did so by coaxing a performance from El Real that proves they are deserved favourites for La Liga - and a strong contender to steal Barca's Champions League crown.
Certainly, the strength of will in the performance made nonsense of claims that he has lost the dressing room. Mourinho has already lasted longer in Madrid than many thought he would - and he is far from finished yet.