FA in talks with Premier League to avoid Cup final fixture clash
By Richard Conway
BBC Sport
Last updated on .From the section Football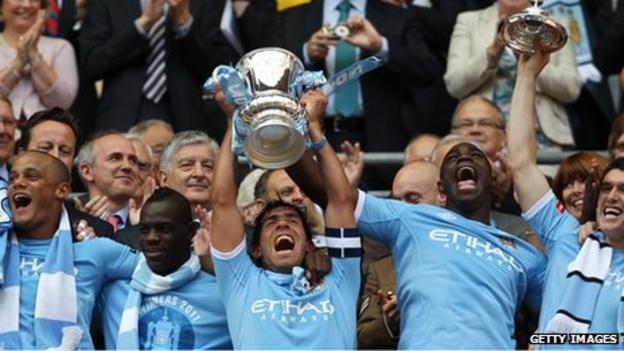 The Football Association and Premier League are in talks to avoid the FA Cup final clashing with league games.
FA general secretary Alex Horne said negotiations are underway to avoid a repeat of what happened in 2011.
Manchester City won the FA Cup on the day Manchester United sealed the title and three other matches were played.
"We're talking to the Premier League about whether there's a way to create a Saturday when the FA Cup can stand on its own," said Horne.
"We have a situation with international player release, and particularly, in 2013 when the Uefa Champions League final is to be played at Wembley, where we know it can't be the last game of the season.
"It won't be the last Saturday of the season but I think we can achieve a situation where it's on its own on a Saturday and I think it's important it's given that space."
This year's FA Cup final is currently scheduled to take place on Saturday 5 May.
However, with a full calendar of Premier League games planned for that date - and the following weekend - finding space to isolate the day for the final may prove to be a difficult task.
Added to this is the Premier League's contractual obligation to provide its broadcast partner Sky with a live game that day at 1245 BST.
A final complication may also come in the form of the Europa League final which is scheduled to take place in Bucharest that Wednesday.
If an English team were to be involved then there would realistically be a demand from the club to play its Premier League fixture on Saturday 5th, allowing a full four days recuperation before the European showcase.
Horne also confirmed that the traditional 1500 BST kick-off for the final would likely change.
He said: "We're talking about moving [the final] to an early evening slot and I think what that does is enable all of the football that's played across the country at 3pm on a Saturday not to be affected by the FA Cup final so that the supporters watching and playing in their local games can get back and enjoy the FA Cup or stay in their club houses."
A change in kick-off time is likely to anger many traditionalists but the FA also wants to maximise interest in the final from overseas.
Horne said: "The FA Cup is a big brand globally, there are half a billion people who watch the FA Cup final played all around the world.
"What's interesting is that we're seeing very strong numbers from our overseas TV deals and we need to follow that up with interest and affection for the competition."
Horne's comments on the FA Cup come as the FA released a new report, undertaken by Deloitte, which highlighted the financial impact of the competition to participating clubs.
The findings show that a total of almost £650m was generated in prize money, TV payments and gate receipts for participating clubs in the 10 years between 2001/02 and 2010/11.
And Horne was keen to point out the cash windfall that the Cup provides has an impact for teams at all levels.
"What this report reveals is the huge financial incentives for teams participating in the FA Cup. You only have to look at Crawley Town last season, who earned £1m from a single game against Manchester United, a truly phenomenal amount of money for a then non-league football club."
A successful cup run can also prove a lifeline to many struggling lower league clubs given that prize money for the 10-year period totalled £230m with £24.5m paid out last season alone.
"They're big numbers and they're not budgeted by clubs as they don't expect to progress in the competition. It's a windfall," said Horne.
Malcolm Clark, chairman of the Football Supporters Federation, is pleased that the FA is attempting to secure a dedicated day for the FA Cup final.
"We would like to see a 3pm kick-off on a dedicated Saturday remain. But we understand that the FA and the TV companies are keen to increase the audience by moving it to early evening" said Clark.
"Our concern though is that an early evening kick-off will cause significant travel issues for fans attending the final. It's not a problem to get home from Wembley for fans of say Chelsea or Tottenham. But supporters from northern clubs will face issues."
"We'd like to see the FA talking to rail and bus companies about the availability of transport after the Cup final has finished."