Alan Hansen on the huge stakes when Liverpool meet Man Utd

By Alan Hansen
BBC's Match of the Day football pundit
Last updated on .From the section Football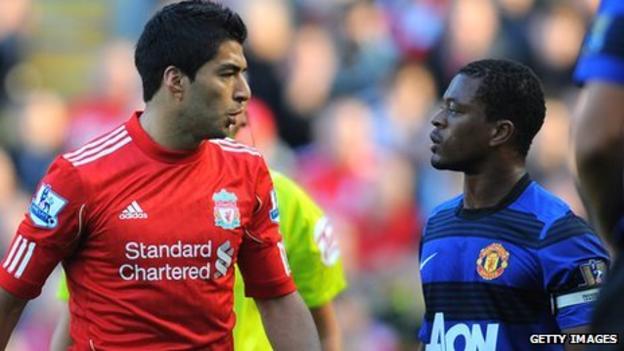 The world always looks on when Liverpool play Manchester United - and recent events mean the world will be watching Saturday's FA Cup fourth-round tie at Anfield even more closely.
It is inevitable that much of the backdrop to the game will be shaped by the fall-out from October's Premier League game, which resulted in Liverpool's Luis Suarez being handed an eight-match ban by the Football Association after being found him guilty of racially abusing United defender Patrice Evra.
Suarez is currently serving that suspension so will not be involved, but it seems certain Evra will be playing on a day that calls for calm heads on and off the pitch at Anfield.
This game is always a showcase for English football but the stakes are even higher on Saturday. It is an important day for English football and how people will judge the game in this country. It's more than just an FA Cup tie between the two biggest clubs in the domestic game.
This means the last thing anyone wants or needs after the final whistle is to be talking about anything other than the game. If there is any trouble on or off the pitch it will be to the detriment of English football in front of that global audience, so there is a weighty responsibility for all involved.
The two sets of supporters - and Liverpool fans in particular as they will be in the majority inside Anfield - have to set an example.
Liverpool v Manchester United is a game renowned for its hostility. It is what sets the game apart and you will never remove that element from such a charged fixture, but the supporters, especially Liverpool's, must stand up and be counted on Saturday.
It is to be hoped that if one section of support sets an example the other will follow because there is a lot riding on this game. Evra will attract a lot of attention but United manager Sir Alex Ferguson is right to dismiss the idea of leaving him out.
More than ever - and I realise this is such a partisan game - it is a day for both sets of supporters to simply focus on backing their team.
It is incredibly difficult to set old rivalries aside but the fans need to do this for the sake of English football. Hopefully everyone will accept that this is a day to be on their best behaviour.
Of course, there will be hostility and a fierce atmosphere inside Anfield, but it is to be hoped it is in a purely footballing context.
Liverpool supporters have been known for their generosity towards fine performances from the opposition, applauding opposition keepers, and hopefully we can get through this without incident and end up talking about a wonderful cup tie between two great clubs.
Sir Alex Ferguson has written to his supporters and I'm sure Liverpool manager Kenny Dalglish will ask for calm, so hopefully if it comes from the top in the shape of these two legendary figures it can work its way through to everyone else.
I don't think there will be any mind games or the single-minded stuff from the managers. I think the focus will be purely on the football, not outside issues.
For Liverpool, it is an opportunity to build on reaching their first Wembley final since 1996 after beating Manchester City over two legs to reach the Carling Cup final against Cardiff City.
Dalglish and his players have experienced some real highs and lows in the last fortnight alone. The elation of a great victory at City in the semi-final first leg was followed by the disappointment of a goalless draw at home to Stoke and then the awful display in defeat at Bolton.
It was back to elation again on Wednesday but those players will not have woken up feeling tired on Thursday; they will have woken up with that great feeling of being in a Wembley final. There is only one thing better than that feeling: winning the Wembley final.
Dalglish's management and transfer business has been closely scrutinised in recent weeks but it is time to put some of the criticism into context.
Jose Enrique has been superb at left-back for £6m, while Craig Bellamy has been a revelation. He was sensational against City, an incredible example of how to look after yourself at 32 and show the right attitude as well as quality.
Liverpool paid £35m to sign Andy Carroll and I recall him looking unplayable when he scored Newcastle's winner at Arsenal last season. He was unbeatable in the air and quick on the deck.
He was injured when he arrived at Liverpool, has struggled not only for confidence but also touch and is not leaving anyone for dead any more. Others will know whether it is a question of fitness or confidence, but Dalglish was right to keep playing him until it became clear he was not getting any better and left him out against City.
Everyone will be working and supporting him behind the scenes to try and find that elusive form he showed on Tyneside, but there is no getting away from the fact that Liverpool look a better team without him.
I really believe Stewart Downing has it in him to be a world-beater. In the early stages on Wednesday he had Micah Richards backing off and backing of. Let me tell you there are only so many players who can do that to him.
With the ability he has he should be a world-beater but he is not. This has to come from somewhere, but there is a real talent in there and it is obvious Dalglish has great belief in him.
I have no worries whatsoever about Jordan Henderson. He is a fine young player who breaks things up, gets from box to box and can pick a pass. And, while Charlie Adam's form has dipped in the last six or eight weeks, he possesses real quality.
The phrase 'work in progress' is the important one because Kenny has been back 12 months and is trying to integrate five or six new players into the side. Unless you are very lucky, this does not happen without a few bumps along the way.
And when you walk through the doors at Anfield these days there is a chasm of difference in the mood from what it was before my old team-mate and manager came back. Liverpool are a work in progress but supporters are going back to the ground now expecting to be entertained again.
This is what makes the draws, defeats like those at Bolton, and the struggle for goals such a frustration for Dalglish and everyone connected with Liverpool. Liverpool have shown they can beat and live with the best and yet they have not got results against other sides.
Liverpool are still quite a way off the top four but if they cannot achieve that then a piece of silverware is always important. I still believe a return to the Champions League is the big priority, but if they remain outside the top four then a trophy is the perfect way to show you are making progress.
It is usual for Liverpool and Dalglish to be placed under the microscope, but there has been progress and they will be optimistic of beating United to end a week that started dismally on a high.