Stoke boss Pulis untroubled by Jonathan Woodgate's form
Last updated on .From the section Football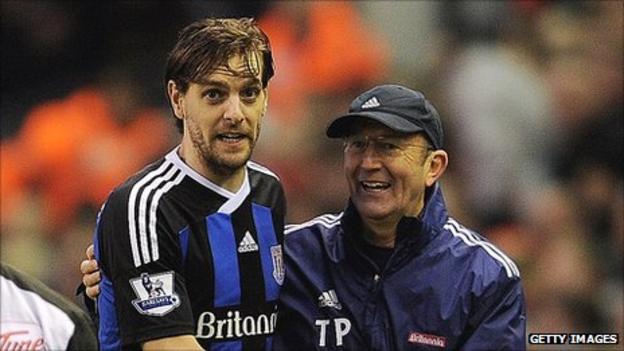 Stoke manager Tony Pulis has said he has no concerns about playing Jonathan Woodgate at right-back, despite criticism of his form from some fans.
Pulis told BBC Radio Stoke that recent results have vindicated his decision to use the England international, who turned 32 on Sunday, as a full-back.
"[The right-back position] has been a concern for some people but not for me," he said. "Woody's done smashing.
"There will always be players that supporters will like and won't like."
The Stoke boss continued: "That's the way supporters are and, as a manager, you have to accept that.
"Do I take any notice? No, not at all.
"We've gone nine or 10 games and lost one game, against Manchester City, and it hasn't been too much of a concern."
Woodgate first appeared at right-back for the Potters in the 1-0 win at Everton on 4 December and has stayed in the position for much of the last two months.
He told BBC Radio Stoke after that game at Goodison Park that he had been disappointed with his level of performances since moving to the Britannia Stadium on a free transfer from Tottenham in the summer.
And speaking to the BBC's Football Focus programme, Woodgate admitted that full-back is not a natural position for him.
"I'm trying to get to grips with playing at right-back but it's not easy," said Woodgate, who won the last of his eight caps for England in August 2008.
"I'm not a right-back but I like playing there. I'll do a job for the team and try my hardest for them, like every other player does.
"No matter where I play, I'll work really hard for the team and do what I'm told to do."
See an extended interview with Stoke City defender Jonathan Woodgate in Football Focus from 1215 GMT on Saturday, 28 January.