Kilmarnock's Kenny Shiels slams Ayr tactics
Last updated on .From the section Football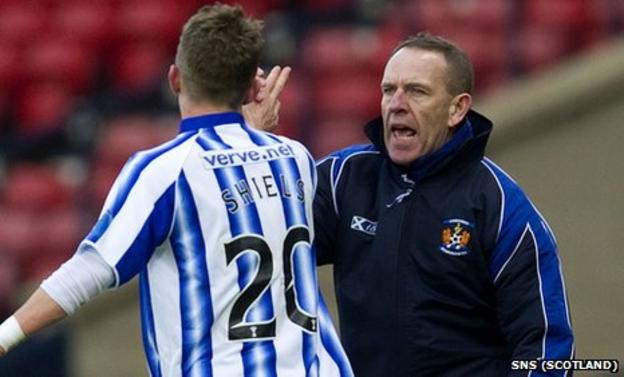 Manager Kenny Shiels was full of praise for Kilmarnock as they booked a place in the League Cup final.
But he was critical of Ayr United's negative approach at Hampden after an extra-time goal from his son, Dean, settled a one-sided tie.
"Football is about two teams going out to win a game," Shiels told BBC Radio Scotland. "Today there was only one team trying to do that.
"I'm delighted for the players because they stuck at it and were patient."
Shiels junior struck the winning goal on 109 minutes, finally getting the ball past goalkeeper Kevin Cuthbert, who had made a string of good saves to frustrate the Scottish Premier League side.
"It was thoroughly deserved," added Shiels. "It was a fantastic performance.
"They came for penalties and almost got there. Football is a game that should be played with expression and we showed great courage, we attacked for the whole game.
"When they come out they look as if they can play. I wish they had done that more. If they had come out, it would have been a better game.
"The Ayr players deserve so much credit for their work rate and how much they put into it.
"But I think if they had come out they could have won the match and maybe that's a lesson for them."
Kilmarnock will meet either Celtic or Falkirk in the final but Shiels admitted he was worried his side were not going to make their dominance count.
"Destiny is a wonderful thing," he explained.
"I was thinking for the whole of the second half that there was something going on with the man upstairs and that they were going to score.
"It's happened to me before and I thought Ayr were going to go through because we weren't getting any breaks."
Shiels also had a few harsh words for referee Steven McLean.
"James Dayton, the most influential player on the pitch, was kicked from pillar to post," he complained.
"I said to the referee 'would you please give him some protection' and what did he do? He went and booked him. What's that all about?
"Football was the winner today and I'm so pleased for the chairman and the supporters."
Losing manager Brian Reid was frustrated after the First Division side had held firm for so long and hit back at Shiels.
"Kenny should keep his opinion to himself, he should worry about his own team," he said.
"I think that is disrespectful and I am disappointed in that.
"He made a few silly comments in saying that we are full-time when we are part-time so I don't think he should be saying these things.
"I started and finished my career part-time.
"There is a major difference in the time you get to spend with your players.
"We have two nights per week with an hour and a half each night, we don't have the luxury of video analysis and working on shape.
"He should know better because I think he managed part-time clubs.
"What we certainly didn't want to do was lose an early goal and then have to chase the game.
"And to be fair people wouldn't have been saying that if we had won the game on penalty kicks.
"What we did almost worked to a tee but unfortunately we came up short in the end."