Gabon coach Rohr praises team's display against Morocco
By John Bennett
BBC Sport, Libreville
Last updated on .From the section Football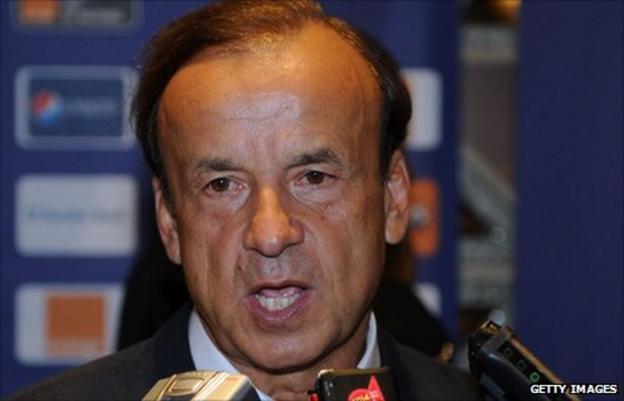 Gabon coach Gernot Rohr has praised the "fighting spirit" and "character" of his team after a dramatic 3-2 victory over Morocco to reach the last eight.
Bruno-Zita Mbanangoye scored the winner in injury time, just minutes after Morocco had equalised from the penalty spot.
Substitute Mbanangoye curled in a free-kick to the angle of the post to seal the win and send Morocco out.
"They had the character of fighting spirit," Rohr told BBC Sport.
"When you concede a goal for 2-2 in the 92nd minute and then find the energy for a third goal, it is wonderful.
"I knew they had character. They are not always easy because they have strong character but when you want to have success you have to have players with strong character."
Despite already securing their spot in the last eight, Rohr says it's vital that the Panthers get a result against Tunisia in their final group match so they can keep home advantage in the tournament.
"We would like to finish first in the group because when we finish first we can play in Libreville, in this wonderful stadium with this fantastic crowd," Rohr said.
"And I hope we can be first because then we can stay in Gabon. If we are second it's possible that we'd play a semi-final in Equitorial Guinea.
"It will be a difficult game against Tunisia. They have two victories, too. If there's a draw we'd be first because we have a better goal difference. We play to win. So let's play a good game."
Meanwhile the Panthers' captain Didier Ovono has told BBC Sport that reaching the quarter-finals is an important moment in the history of football in the country.
"It's very special because it's a long time since we've been to this round," Ovono said
"Now we are in the quarter-finals and we are all very happy because for our young country it's very important to be there (quarter-finals)."
Former English Premier League striker Daniel Cousin scored Gabon's crucial second goal on the night and he is now targetting a place in the final of the Cup of Nations.
"The victory is beautiful, I'm happy because I've scored, I hope we go all the way to the final now.
"I have scored at Old Trafford and the Emirates Stadium. Here it is different. The atmosphere is great.
"I am happy because it's my first goal in this stadium."