Oxlade-Chamberlain could shine at Euro 2012 - Arsene Wenger
Last updated on .From the section Football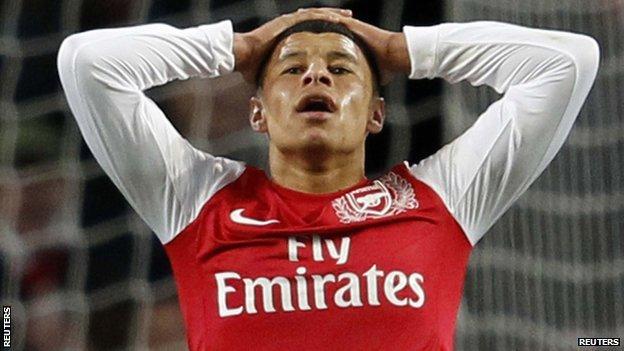 Arsene Wenger believes Alex Oxlade-Chamberlain's rapid development may put him in the frame for a starring role with England at Euro 2012.
A series of impressive displays have made the 18-year-old an instant favourite with the Arsenal fans.
Gunners boss Wenger sees no reason why the winger cannot put himself into contention for Fabio Capello's squad in Poland and Ukraine this summer.
"You cannot rule it out - we will see in the next three months," said Wenger.
"If he does well, why not? It is not because you are young that you cannot play. We live in a world of immediacy.
"I would not have expected him to be so mature in September because he still looked like a boy.
"Now suddenly he looks like he can take pressure and that he has the personality to produce under pressure."
Oxlade-Chamberlain underlined his growing stature with a textbook display of pacy wing play in last Sunday's 2-1 defeat to Manchester United, leading to frustration in the crowd when he was replaced by Andrey Arshavin.
Meanwhile, Wenger admitted that, despite his love for the FA Cup, the Premier League remains his primary focus.
The Gunners host Aston Villa in the fourth round on Sunday on the back of three successive league defeats.
The Frenchman has always prioritised the league, despite four FA Cup successes in his 15 years with the club.
"I love the FA Cup, and I will always fight to win it, but I have always told you exactly the same - the priority is to be in the top four," he said.
"I won it [the Cup] four times and lost one final, and I don't know how many semi-finals. I always try to win every single competition.
"If you look at my record you will see the FA Cup is important for me. I think our record is better than all of them over the past 15 years."
Arsenal's most recent trophy was the FA Cup seven years ago, but Wenger insists he would not take Wembley glory in May ahead of another campaign in the Champions League next year.
"In recent years, I felt that we produced always the consistency at the top, top level and it is not enough for some people maybe, but for me that is the brand of a top level club - consistency in the top four," he added.