Keith Southern's Blackpool comeback from cancer pleases Ian Holloway
Last updated on .From the section Football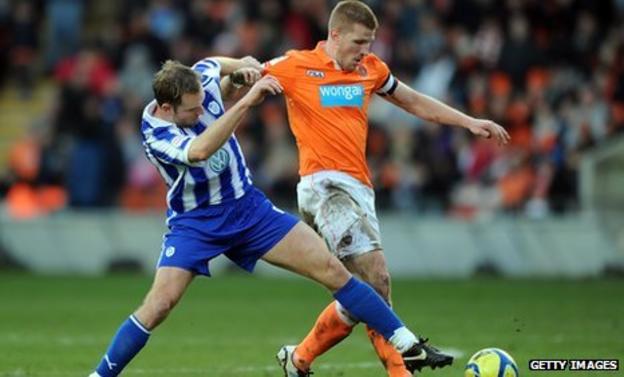 Blackpool boss Ian Holloway praised Keith Southern for his mental strength in his first game back after testicular cancer.
"I've never known a bloke mentally as strong as him on and off the pitch," Holloway said.
"We let him have some time off. He's all-clear at the moment but the problem is that worry you're going to have to keep checking, and when it is the 'c' word it's horrible."
Southern, 30, received a rapturous ovation at Bloomfield Road in his first match since November as Blackpool earned a fourth-round replay thanks to Kevin Phillips's last-gasp penalty.
Southern suffered a nasty gash to his ankle in the build-up to Clinton Morrison's opener for Sheffield Wednesday, and Holloway revealed his captain for the day refused to get treatment.
"I gave him the captaincy because he thoroughly deserves it and now he's gone and got another cut - life is a funny thing," he said.
"I've never seen a gash like it - it's a great big hole. He's got somewhere to slip his pyjamas now.
"It was quite a nasty tackle - over the top of the ball, stamped on his ankle. He didn't realise how bad it was; he didn't even want treatment.
"Even that bout of cancer he had didn't keep him out for more than five weeks, so it's only a little gash."