Ivorians add local friendlies to Nations Cup schedule
By Nick Cavell
BBC Sport, Malabo, Equatorial Guinea
Last updated on .From the section Football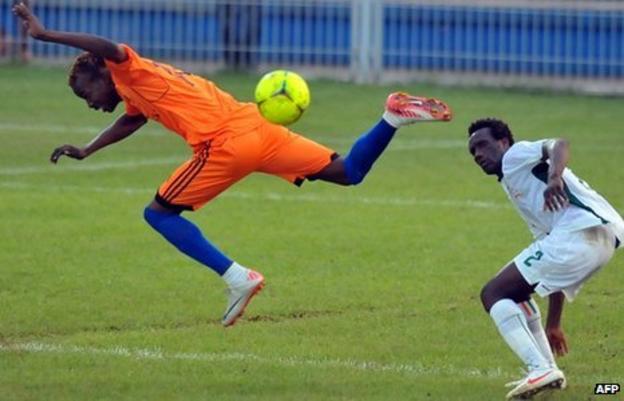 Ivory Coast have taken the unusual step of playing two friendlies during the Africa Cup of Nations in Equatorial Guinea and Gabon.
The second-string Ivorians have beaten local club side Sony Ela Nguema comfortably 3-0 and then 5-1 in the Equatorial Guinea capital Malabo.
Midfielder Max Gradel played in the second victory after twice coming on as a substitute for the first team in their wins over Sudan and Burkina Faso he admits such friendlies are risky.
"We're in a tournament and there's the risk of getting injured," he told BBC Sport.
However, he insists there are benefits too.
"It's important for us to get fit and to win games like this and keep our confidence high," he added.
"It's not easy [playing these games] and a team like this realises it's playing Ivory Coast so they give everything.
"I know they are a small team compared to us, but it's also hard because they know they are playing big-name players - so they make it hard for us.
"It's important that we keep calm and keep the way we are playing."
CSKA Moscow striker Seydou Doumbia scored a hat-trick in the second friendly and Gradel says all the players are pushing for places in coach Francois Zahoui's starting eleven, with the Elephants already through to the Nations Cup quarter-finals.
"When we play games like this we have to show what we have - we've got to make the coach decide who makes the starting eleven and make it hard for him," he said.
Zahoui has said these game are important as it ensures his whole squad is match fit.
As for the opposition, they admitted they had been told to take it easy on the Ivorians.
"Our coach told us that these guys are professionals playing the Africa Cup of Nations and of course we need to respect them," Sony's captain Fortunata Nguema told BBC Sport.
"As captain I made sure the message got through to my team-mates that we needed to be careful, they had a competition to play and so that restricted us a bit.
"It's great for us, we're really proud. We're really excited to play against the professionals, against the best players in Africa and even the world.
"They cover the pitch well and pass the ball, they are technically superior and it is a great footballing nation."
Nguema said the games were also helpful to his squad.
"Yes it helps us because we are right in the middle of preparing for the African Champions League," he added.
"It helps us because the championship has not started yet and this kind of match gives us some experience and we can get an idea of what to expect in the Champions League."
The small crowd were also treated to the appearance of some former Ivory Coast players who are now part of the management teams, as Bonaventure Kalou and Blaise Kouassi came on during the second-half.
Elephants midfielder Salomon Kalou, meanwhile, has admitted that having his brother Bonaventure as part of the Ivorians' management structure does add pressure on him.
The Chelsea forward has already done his part of the pitch, setting up the goal to beat Sudan and then scoring against Burkina Faso.
"I don't feel pressure but he puts me under pressure to play my best," Salomon told BBC Sport.
"He's on the management and wants me to deserve my position.
"He doesn't want me to give people the chance to say: 'His brother is part of the management team and that's why he is on the team.'
"I am doing my best to make him proud - hopefully we'll get to the final and I'll be the man to help my team do that."
Bonaventure had a distinguished career, scoring for Ivory Coast at the 2006 World Cup in Germany and winning the Uefa Cup with Dutch side Feyenoord four years earlier.