Wrexham manager Andy Morrell keen to boost 'tired' squad
Last updated on .From the section Football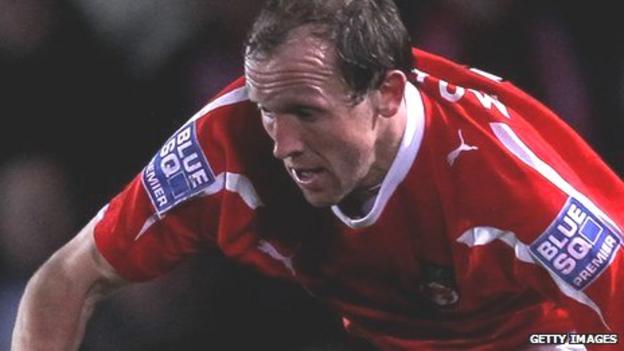 Wrexham player-manager Andy Morrell has said he is still hoping to add to his squad to aid their push for promotion.
Morrell admits his players are "tired" after a recent schedule of five games in 15 days.
Steven Leslie has joined the Dragons until the end of the season and Morrell is keen to add further reinforcements.
"I said we didn't want many but if I can add another one or two maybe I think it would brighten up the lads that are here," he said.
"I'm not too sure it's going to be a 35-goal, £100,000 signing but I certainly [want to] bring bodies in to help out and strengthen what we've got.
"I don't want too many because we'll have Pogs [striker Mathias Pogba] and people back and we're a good tight outfit.
"My learning curve is fairly steep at the minute and it's harder to get them in than you think. We've tried to get bodies in but just not been able to get them in.
"It's not just a case of a phone call and done. It takes time, but that will come."
With leaders Fleetwood winning at Forest Green, the Dragons remain second in the Blue Square Bet Premier after a seventh consecutive home win in the 2-0 victory over Bath City.
Wrexham's next game is a trip to Darlington on 11 February and Morrell says the two-week break comes at the right time for his players.
"It's been hard and injuries haven't helped," he said. "We've had nobody to come and freshen it up. It's good timing because we can crack on for the last 16 games."
As well as the addition of Steven Leslie, goalkeeper Joslain Mayebi and midfielder Jay Harris have signed new contracts and Morrell is hopeful others will commit to the club.
"The stance has been all along we're not going to sell any more," said the former Coventry City player.
"We're going to look to try and keep them and take a hit at the end of the season if that's what we have to do.
"I'm delighted Josi and Jay have signed and hopefully there's a couple more to come, signing rather than leaving it until the end of the season.
"We'll negotiate with them and I'll try and persuade them."
Morrell has confirmed he will be without Danny Wright for a month after the striker suffered a dislocated his elbow during the recent FA Cup replay defeat against Championship side Brighton.
"[It's] really disappointing news," said Morrell. "[It's] a really horrible injury for him.
"We'll have to look at him as we go but I'm not expecting for the next month or so."