Proud Paqueta wants changes to aid Libyan future
By Matthew Kenyon
BBC Sport, Bata
Last updated on .From the section Football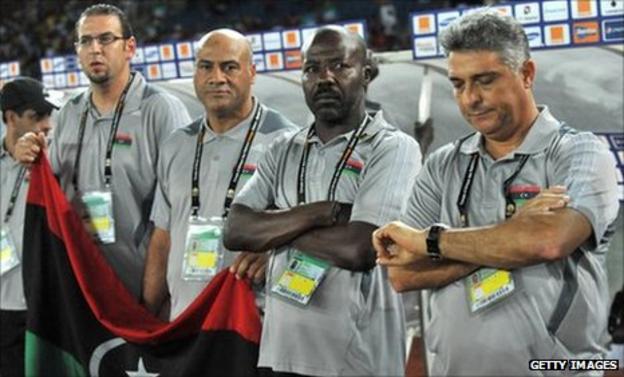 Libya coach Marcos Paqueta says he is proud of the achievements of his team at the Africa Cup of Nations.
The coach led the North Africans to their first win at the finals since 1982, but says things have to change if the side is to continue its progress.
Libya beat Senegal 2-1 in their final group game on Sunday but exited the competition after finishing behind Zambia and co-hosts Equatorial Guinea.
"I'm happy for the people of Libya, the staff and the players," he said.
"For our situation, it's a very good performance - because the players have no clubs and no training camp, and then they play against strong teams like Zambia, like Senegal," the Brazilian told BBC Sport.
"We made progress - the first game (against Equatorial Guinea) wasn't so good, the second game (against Zambia) they played well, and I think they played well [against Senegal].
"So we made progress and I think that's very important."
But with 2014 World Cup qualifying starting in June - when Libya face Cameroon, Togo and DR Congo - and only one two-legged tie to be played to make it to the 2013 Nations Cup, Paqueta is concerned.
He is worried that the Mediterranean Knights may not be adequately prepared as crucial matches come thick and fast.
"They (the Federation) have to change everything - they have to find clubs for players, to help them continue to train and make preparations," the coach said.
Libya's football league stopped in March as fighting gripped the country, prompting many of the squad to travel to neighbouring North African nations to find clubs and gain some match fitness.
Asked about his future, Paqueta made it clear that he wants to stay, but only if some of the understandable problems within the Libyan camp are resolved quickly.
"I have a contract until 2014 but I have to see the federation and talk to them about the situation," said a man who stuck with the squad throughout their difficult build-up to the 2012 finals.
"I have to change some things, and if they do that, then OK."