Sudan's quarter-final spot sparks Khartoum party
By James Copnall
BBC News, Khartoum
Last updated on .From the section Football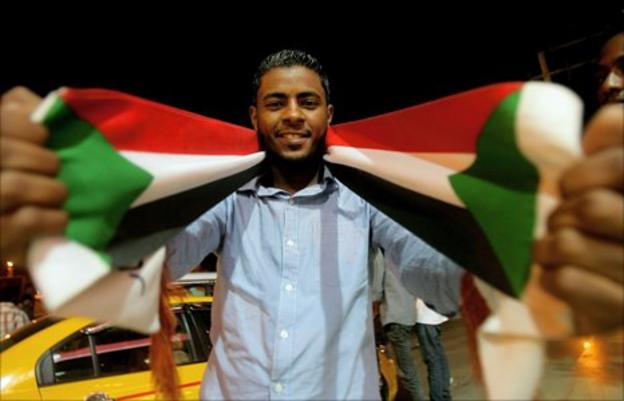 Impromptu celebrations broke out all over Sudan as the national team upset the odds to reach the quarter-finals of the Africa Cup of Nations.
Queues of cars serenaded the streets of the capital Khartoum with discordant choruses of car horns.
Fans leant out of the windows of many cars to proudly fly the Sudan flag.
At one restaurant near the airport, a group of more than 50 people spilled onto the road, stopping traffic with their chants of "Up, Up, Sudan Up!"
Sudan's 2-1 victory over Burkina Faso was an historic moment - not least because it was the first time the team had won a game at the African finals since 1970.
That year, playing at home, Sudan won their only African title - and this is the first time the team has reached the knock-out stages since.
This year's team is considered unlikely to repeat that feat, but that has not stopped the fans enjoying their place in the quarter-finals, which was only made possible by Ivory Coast's 2-0 defeat of Angola.
"It's a miracle," said Ibrahim, a young man who lives in Omdurman. "The car horns were so loud they woke up my sleeping baby!"
Other fans seemed shocked - happily shocked - by the result.
"I'm so happy because after 40 years I saw Sudan join the ranks of the biggest teams," Ahmed Omer, 48, told the news agency AFP.
He was fluttering a large Sudanese flag from his car as he cruised the streets of North Khartoum with his family.
Politically, it is a difficult time in Sudan at the moment - with South Sudan having seceded last July, and partly because of this the economy is struggling.
Politicians have admitted the national sense of worth has taken a blow, and recent squabbles with South Sudan over oil have not done much to lift the mood.
So triumph from an unexpected source - the football pitch - is most welcome.
"We have good news about Sudan. Because of this we are coming out into the streets to celebrate," said Omer's wife, Amal Mohammed.
Sudan's football fans are deeply passionate about the country's two big clubs, Al Hilal and Al Merreikh.
Before a big game, street vendors sell the flags of each club - blue with a white crescent moon for Hilal, and red with a yellow star for Merreikh.
It is not always possible to find the national flag, but this may change following Monday's historic .
Hilal and Merreikh have played a role in the national triumph, since their increased professionalism over the last few years has boosted the national team, which is entirely made up of home-based players.
Now the likes of defender Seif el Din Ali and Mudather el Tayeb, who scored twice against Burkina Faso, face the pleasing prospect of a Nations Cup quarter-final.
They take on Zambia in the Equatoguinean city Bata on Saturday 4 February.