Ivorians encouraged by squad's strength in depth
By Nick Cavell
BBC Sport, Malabo, Equatorial Guinea
Last updated on .From the section Football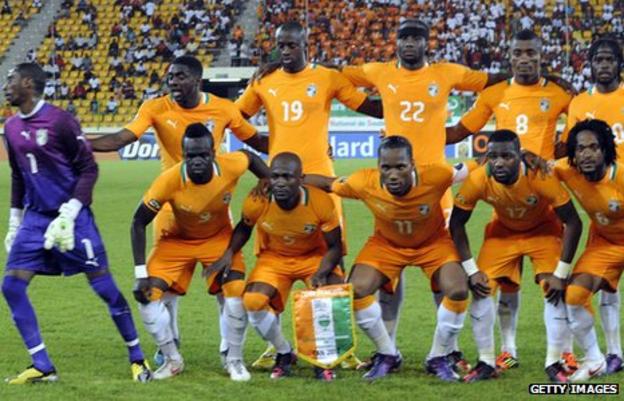 Ivory Coast's Yaya Toure and Sol Bamba believe using almost their entire 23-man squad in the group stages can benefit the Elephants at the Africa Cup of Nations.
The only Ivorian player not to feature in the group stages was goalkeeper Gerard Gnanhouan.
With Ivory Coast already through to the last eight, coach Francois Zahoui had the luxury of being able to make nine changes to his starting line up for the 2-0 win over Angola on Monday.
"Definitely, that's what we showed [that Ivory Coast have a squad to cope with injuries]," Bamba told BBC Sport.
"The manager wants us to give him problems choosing his starting 11, [and] that's what we managed to do."
Toure said the changes meant some players like Salomon Kalou, who picked up a hamstring injury in the previous game, could get some recovery time.
"I was happy that we got the win and that some players like Drogba and Kalou got a rest," the Manchester City midfielder said after the game.
"Because in African competitions it's very hard and the weather is so hot, you have to be strong.
"Ivory Coast has 23 players at a high level."
Despite winning all three of their group games and not conceding a goal, neither Bamba nor Toure are understimating their quarter-final opponents and co-hosts Equatorial Guinea.
"They are a very organised team and play well together and have a good spirit so we need to be careful," Bamba said.
"They'll have the 12th man of the fans, but we're used to it and so it shouldn't be a problem for us."
Toure echoed his team-mates' comments about their last-eight task.
"It's going to be a tough game playing against the organisers of the tournament, but I think we've got experience and we've got the players," he said.
"The most important thing is to be sure, be strong and that will make the difference in the end."
Former France international Basile Boli, meanwhile, who was born in Ivory Coast, believes the Elephants have what it takes to lift the trophy on 12 February.
"It's one of the big teams in Africa and despite changing so many good players [against Angola] the defence was good and if defence is good attack is easy," Boli said.
The Elephants take on Equatorial Guinea in the quarter-finals in Malabo on 4 February.