Sudan preparation the secret of success, says coach
By Matthew Kenyon
BBC Sport, Bata, Equatorial Guinea
Last updated on .From the section Football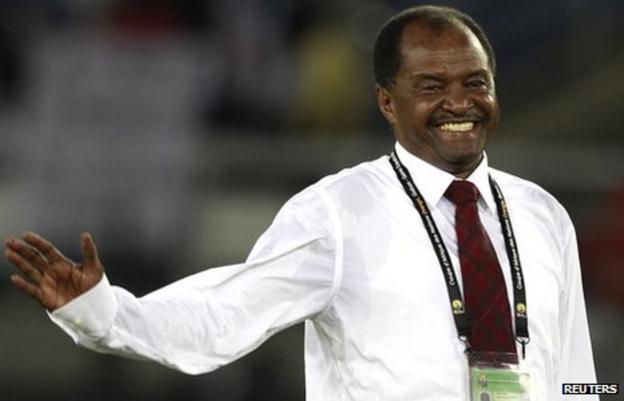 Good preparation has been the key to Sudan's progress to the Africa Cup of Nations quarter-finals, according to their coach Mohamed 'Mazda' Abdallah.
Their 2-1 victory over Burkina Faso, tied to Ivory Coast's 2-0 win over Angola, saw them into the last eight.
It was Sudan's first win at a Nations Cup since 1970 but it was not a surprise to the coach.
"We have proved that we can play at this high level of football," Abdallah told the BBC after their win.
"We were playing under pressure to win and we were playing a well organised team like Burkina Faso, who weren't under pressure, so it wasn't easy.
"But the way my players played, the way they concentrated defensively and used their chances to score - I am very happy for this."
The entire Sudanese squad play their club football inside the country, making them the first side made up entirely of locally-based players to reach the last eight since Tunisia in 1996.
Added to that, 16 members of the party had no Nations Cup experience before Equatorial Guinea and Gabon, but Abdallah says the team had the right build-up to this event.
"We knew that with locally-based players you need good preparation," Abdallah, the former Sudanese captain and university professor, said.
"So we played Senegal, Gabon and Tunisia [before the Nations Cup], which allows your inexperienced players to [develop]."
"And then from match to match, from Ivory Coast to Angola, to this third match [against Burkina Faso] we have progressed tactically."
Sudan play Zambia in Bata in the quarter-final next Saturday and Abdallah is confident that his side will compete - whatever the eventual outcome.
"Zambia are very fast - they're well organised, but we have time to prepare tactically and physically for this game," he said.